Here is everything you need to know to download and install the first version of Windows 11 which will be available in the coming hours. Microsoft announced at its conference on June 24, the earliest version of its new operating system is ready for deployment this week. Here's how to prepare to install it as soon as it is released.
The moment we have been waiting for several weeks has finally arrived. Windows 11 will finally start arriving on compatible PCs this week. The precise date of the deployment has not been communicated, but if you wish download and install Windows 11 Preview (Dev Channel), this file aims to prepare you for it. But we recommend that you install it from the outset on a PC other than the one you normally use or on a virtual machine.
Windows 11: how to install the Developer Preview?
The Windows 11 Preview (Dev Channel) is the very first version officially released by Microsoft. As usual, it will be accessible only to members of the Insider program. Fortunately, it's less complicated than it looks. In this special file, we show you all the steps to join the Windows Insider program in order to test the new features of the OS before everyone else.
Be aware that there are three official channels for testers. If you want to install Windows 11 this week, this is the Dev channel that must be chosen during configuration, as you can see in the capture below.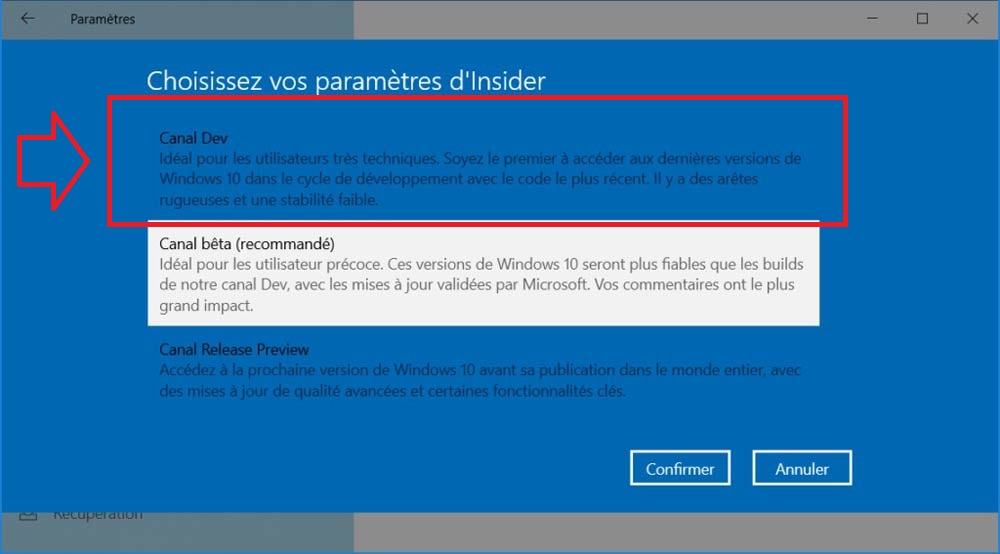 But beware: the versions of Windows deployed via this Channel are the most unstable. You are therefore likely to encounter bugs. This is why we recommend that you do not use your primary computer. If you have a second one on hand, install the Preview on it instead. Otherwise, install Windows 11 in dual boot or on a virtual machine. Find out in this tutorial all the steps to configure a virtual machine on Windows 10.
Once a member of the Insider program, all you have to do is check for new feature updates in Windows Update. Go to Settings> Updates and security. Download and install Feature Update 21H2 (Windows 11) as soon as it is available.
The first beta of Windows 11 (a more stable version than the Developer Preview) will be available later this summer. As for the final preview which is deployed just before the consumer version, it will arrive by the end of the year.
How do you know if your PC is compatible?
Windows 11 is not compatible with all machines. Microsoft is rather restrictive in terms of the minimum recommended configuration for Windows 11. It only takes one dual core processor clocked at 1 GHz (64 bits) to run the system. If this requirement is far from being a problem for the vast majority of PCs, it is the condition of having a TPM compatible motherboard which puts a lot of people on the shelf.
This specification is indeed uncommon on PCs older than 4 years. According to the latest news, it seems that it is possible to circumvent this restriction. We will come back to this in a future article.
Windows 11: the main new features
First major overhaul of the operating system for several years, Windows 11 which was made official on June 24 introduces many new features. The OS offers itself a real movement cure with a design revised in depth without departing from the fundamentals of Windows. In particular, the taskbar and the Start menu are different of what we were used to.
Another major innovation: the Microsoft Store has been updated and now offers Android applications natively on Windows. The Control Panel is a little more neglected in favor of the Settings menu in Windows 11 which welcomes new configuration options. Another application is giving way to another.
This is the case of Skype giving way to Microsoft Teams by default. So many novelties which amply justify the renaming of the system. And this, despite Microsoft's promise to stay on Windows 10 indefinitely and to evolve it through two major updates per year.