It is quite possible to download YouTube playlists. Several tools allowing you to achieve your goals are actually available. We present three of them to you in this article.
In a previous tutorial, we explained to you how to download YouTube video on iPhone, Android, PC and Mac. However, you may be tempted to get your hands on an entire playlist that includes, as a reminder, several videos around the same subject. Know that this is quite possible thanks to several easy-to-use and easily accessible tools. Note, however, that a large part of the content on YouTube is protected by copyright laws.
We have selected three free solutions that will help you easily download a playlist. Which make it possible in particular to avoid having to perform the tedious task of downloading each video one by one. Each tool presented has been tested by us in order to be sure that it was still very efficient in 2021.
Read also >> How to convert YouTube video to mp3
4K Video Downloader

It is an efficient tool that will allow you to get your playlists quickly and easily. 4K Video Downloader is accessible on Windows, Linux, macOS. See you in a first on this site to download the software. Here is how to proceed:
Open the software then type the link of the playlist of your choice in the corresponding box.
Then press Paste Link. A dialog box will ask you if you want to download the whole playlist or only a part.
Then click on Download Playlist then choose the resolution of your choice as well as the format (MP4, MP3…).
All you have to do is press Download and you're done!
YouTube playlist

This solution has the advantage of not requiring the download of software. It is therefore very easy to use and allows you to group your playlist in a zip file in mp3 format. Get the URL of the playlist you want to get then follow these different steps:
Enter the playlist link in the section reserved for this purpose.
A new page will then open with all the songs in the playlist.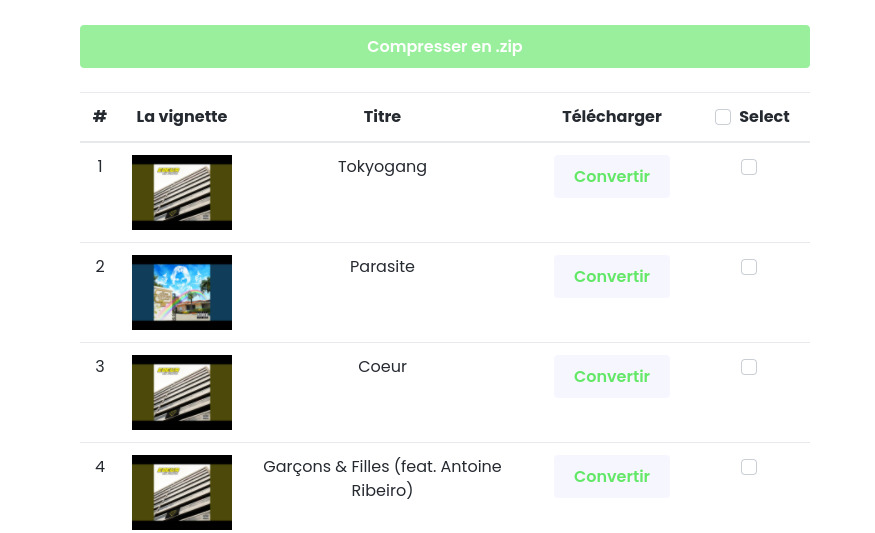 Check the Select box then press Compress to .zip.
After all the videos are converted, tap Download.
Loader.to

The tool Loader.to works perfectly while being very easy to use. As for the previous solutions presented, copy the link of the playlist you want to acquire to the clipboard then follow the guide:
Type the URL in the corresponding section.
Then choose the desired format (MP3, AAC, MP4 …)
Then limit the playlist by choosing a beginning and an end then press Download.
Wait a few moments for the conversion.
Finally press Download to obtain your files which will be grouped into a Zip file.