On Google Chrome, deleting the browsing history, the cache or even cookies is not very complicated. You still have to know where to look. Erasing them will prevent too much personal information from your browser, which unwittingly collects data on your location and your searches. Google even allows you to delete the history automatically periodically.
On Google Chrome, you can never be completely invisible, even with private browsing mode activated. And for good reason, your personal information is stored almost everywhere. On your computer of course, but also on the network you use, the server of the sites you visit and therefore your web browser.
Browsing history and cache are actually copies of the pages you visited recently. Sites use them to offer you more relevant content based on your interests. Cookies also store your browsing preferences to then display recommendations tailored to your tastes, such as on e-commerce sites for example.
Read also >> Chrome: save RAM with this essential extension
How to Clear Browsing History on Google Chrome
Therefore, deleting your browsing data is essential to strengthen the protection of your privacy. What's more, it frees you from explaining why you frequent certain sites in the event that someone else is also using your session. Besides, be careful who can access your computer or in particular Google Chrome if you save your passwords on it. Malicious people could log into your accounts without any difficulty.
Open Google Chrome then click on the three small dots at the top right.
Then click on Settings.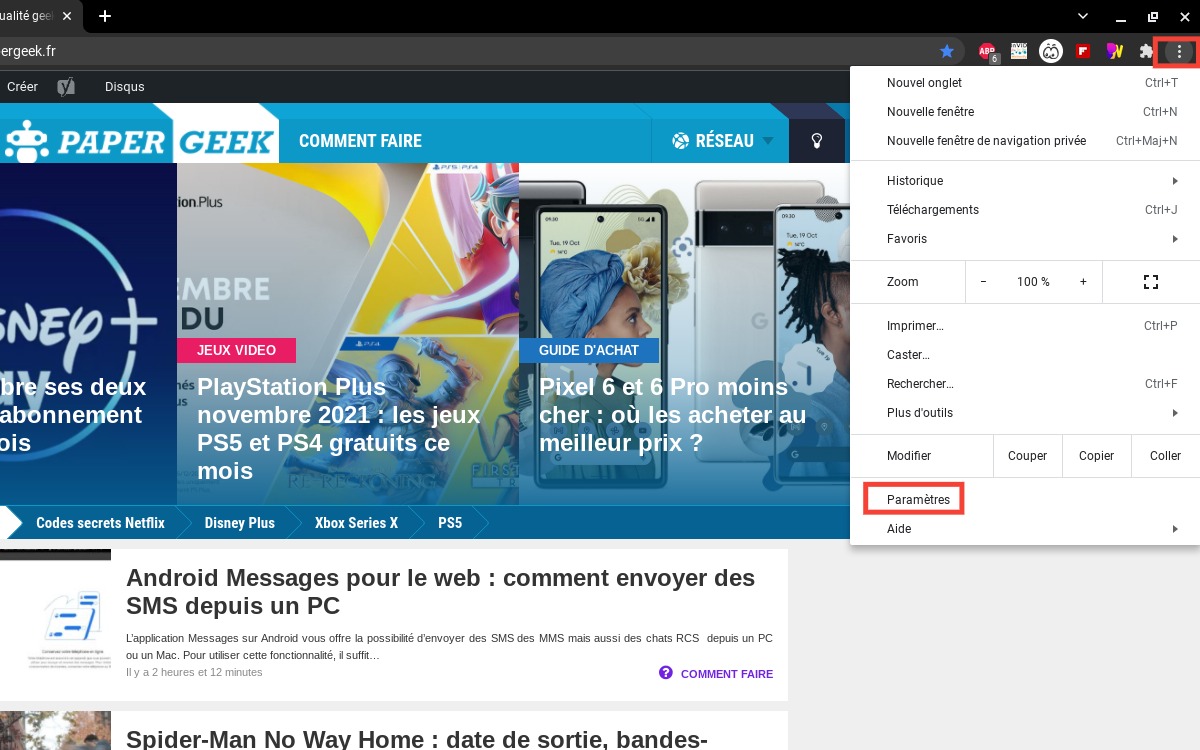 Go to the section Confidentiality and security located on the left column.
Then click on Clear browsing data.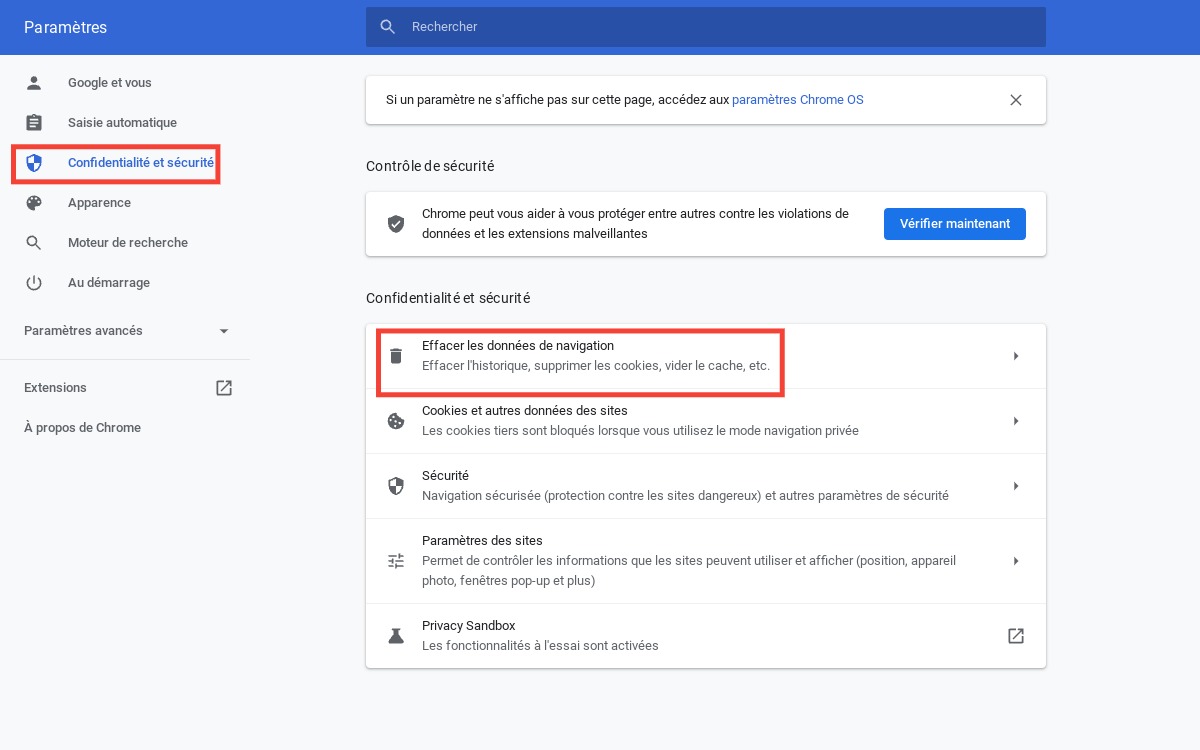 In the window that appears, you can check the items you want to delete over a specific period (last hour, last day, last week, last month, all data). Check all to remove all traces of your browsing history, cached images and files, cookies and other site data.
To validate the manipulation, click on the blue button Erase data.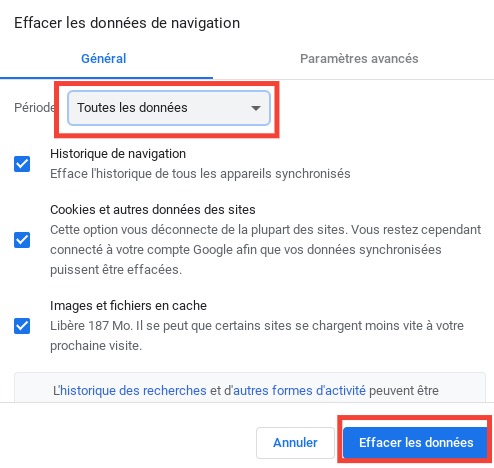 Clicking on advanced settings, you will also be able to erase saved passwords, automatic entry data or site settings.
There you have it, you have erased all traces of your browsing on Google Chrome. However, this will not remove certain information stored on Google's servers. To tackle this problem, I refer you to our tutorial explaining how to delete the search history from your google account.
How to delete Google Chrome history and your browsing data automatically
Google Chrome has recently made it possible to program the deletion of your history and other browsing data. This will then be done regularly. Here's how to do it:
From your PC, smartphone or tablet, go to this address (My activity) by making sure you are logged into your Google account used at the browser level.
Go down to section level Web and app activity and click on Select an automatic deletion option.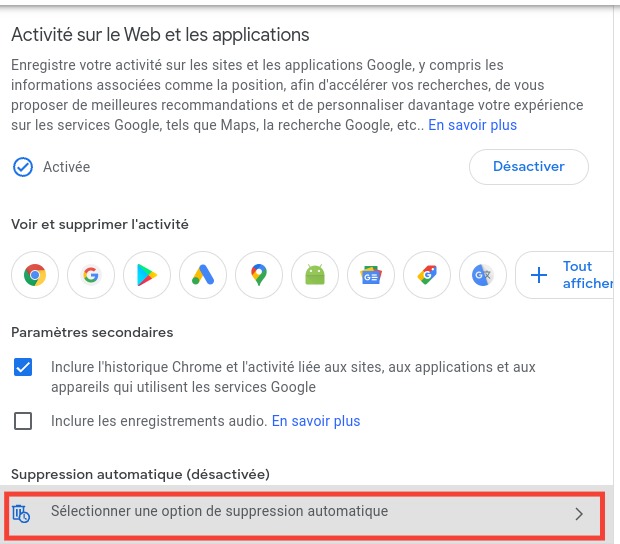 Check the box Automatically delete activity older than and select a duration. You have the choice between 3, 18 and 36 months.
Save the changes by clicking on Following.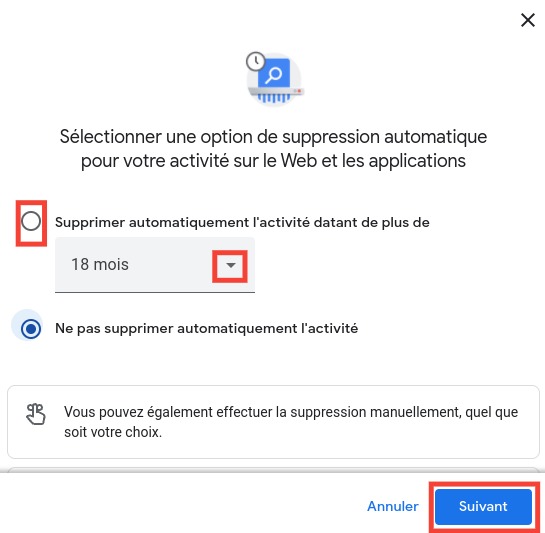 That's it that's all. Now you know how to improve your privacy on Google Chrome a little bit. As for those who no longer want to be tracked, throw away all your high-tech items and take a spiritual retreat in the mountains. This remains the most effective solution. We also invite you to discover how to delete and deactivate your "Ok Google" history.