Creating a WiFi access point on Windows 10 in order to share your Internet connection is done in two steps, three movements. We explain the procedure to follow in this tutorial.
Windows can turn your PC into WiFi access point in order to easily share Internet connection with a smartphone for example, or any other device. The handling is very fast and is done in a handful of clicks. Before detailing it, here are some reasons that could push you to use your computer as a WiFi access point.
Why configure a WiFi access point on Windows?
This maneuver can be useful if your computer is connected to the Internet network via an Ethernet cable. After turning your PC into an access point, any other device can benefit from its connection via WiFi, your PC thus becoming a router. In this case, configuring a WiFi access point on your computer will be useful when it is only possible to connect to the Internet by wire.
Other cases: you do not know the password of the source WiFi or you have purchased Internet access that only works on a single device (such as in a hotel for example).
If you do not have a WiFi repeater, configuring an access point on your computer will allowenlarge the coverage area. Concretely, your computer will turn into a relay. The rooms in your home that are too far from the box can thus be covered by your PC. You just have to make sure to install your computer halfway between the box and the uncovered areas.
Windows 10: here's how to create a WiFi access point and share your internet connection
First of all press Windows + I to open Windows settings
Then go to Network and Internet.

Then click on the section Mobile wireless access point in the left column.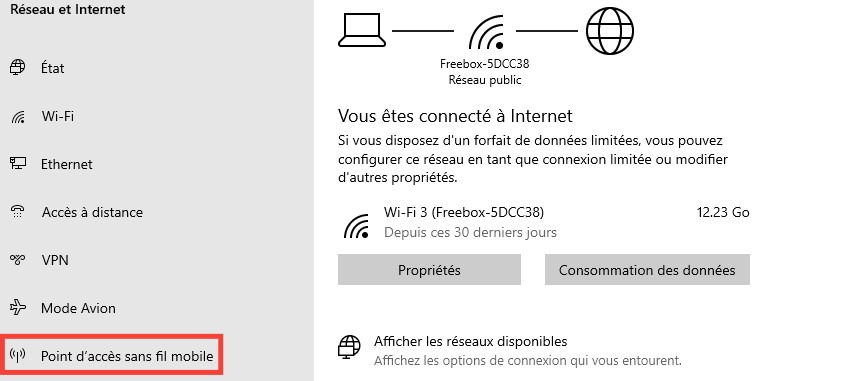 Modify the network name and password as you wish then click on Save.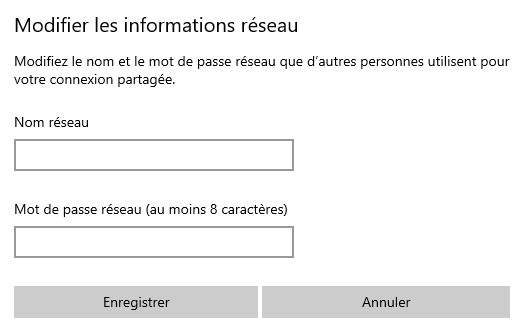 Activate the mobile wireless access point by checking the corresponding box.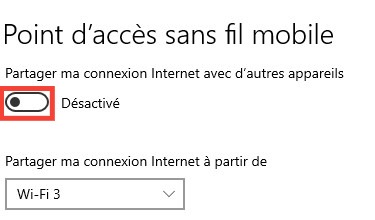 Then all you have to do is connect to the newly created access point from the device of your choice. To do this, you will need to find the network name in the list of available WiFi networks and type in the password.
Simple isn't it? If you have a computer running Windows 7 or 8, don't panic! There is software to do it all for you! Among the best known, we can cite Mypublicwifi or Connectify. They are easy to use and really efficient.