Windows 10 does not allow you to easily create a bootable USB drive natively. But it is possible to simplify the process by using a small free application: Rufus. Follow our tutorial to take a copy of Windows 10 in your pocket!
There are several solutions to create a bootable USB key with Windows 10. Microsoft also offers a tool, the Media Creator Tool. The latter allows you to update Windows 10 or create installation media with the system. The application then downloads the latest version of the OS and mounts it on a bootable USB key or DVD.
This method also downloads the Windows 10 installation ISO file. If you already have the ISO file and want to mount it on a USB flash drive, you will need to use a tool designed for this task. In this tutorial, we have retained one of the best that we have had to test: Rufus. This solution does the job very well.
Create a bootable Windows 10 USB drive with Rufus
To create a bootable USB stick with Rufus, make sure you have downloaded Windows 10 .iso file corresponding to your system architecture. Whether or not you have a license, you can easily get this .iso through Microsoft's site. From this image it is possible, as on Mac OS X, create a bootable USB drive from native tools – but at the cost of many manipulations. The Rufus app greatly simplifies the process.

Click on Yes
Once the search and possible update is complete, the interface looks like this
Connect your USB key and it will be recognized automatically on the line Peripheral
On the second line, click on the button Selection then choose the ISO file by going to find it in its location
Choose Diagram MBR partition then BIOS or UEFI in Destination system
Leave all the other fields intact then click on Start to begin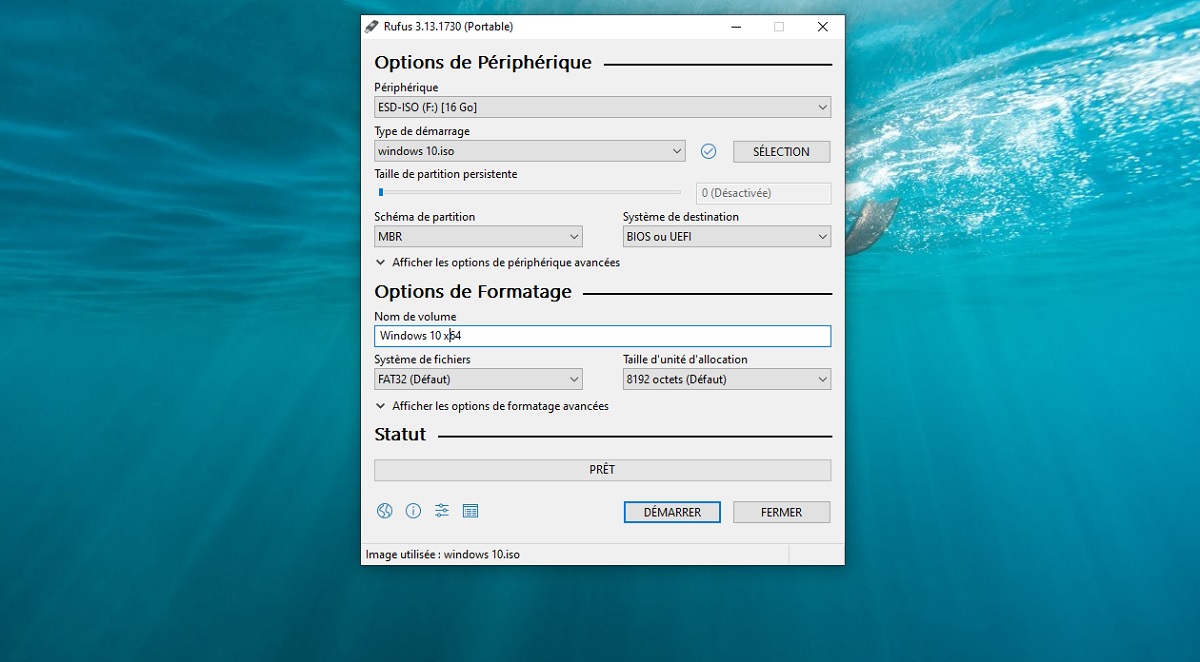 The rest is completely automatic: you will have to wait a few minutes before being able to eject or use your Windows 10 USB key. At the end of the operation, not much happens on the Rufus side, except you can start the process again on another USB stick within a second.
Boot from your bootable Windows 10 USB drive
If your computer allows it, you can boot directly from your USB key. You will probably need to change some settings in your BIOS – accessible during startup by pressing one of the following keys: F2, F4, F8, F12, DEL, SUPPR, ESC, etc. The key depends entirely on the brand or even the model of the PC.
This information is usually visible at the bottom of the screen during system startup under "Press X to enter setup". If you do not see it, do not hesitate to inquire on the manufacturer's site. We talk a little more about this aspect in our tutorial to boot from a USB key or an external hard drive.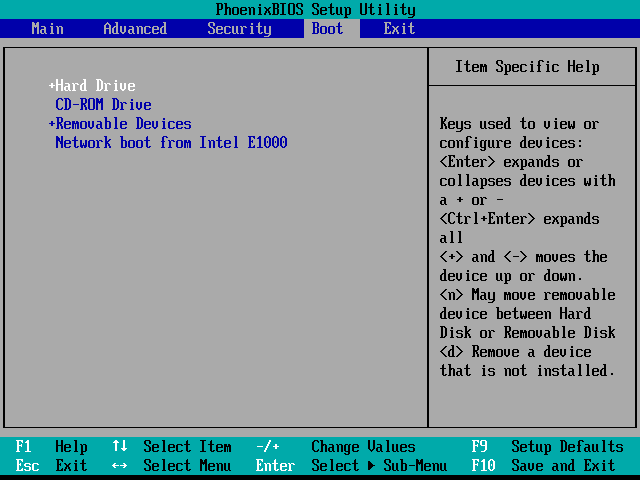 Enter the configuration pages of your BIOS
Look in the menus for an option Boot or Boot sequence
Change the boot sequence order so that USB is before "Hard Disk Drives", "Floppy" and others.
Press on F10 to save and exit and Y when asked
Let your computer restart: it should now boot from your USB key!
There you have it, you now know how to create a bootable USB key easily under Windows 10. Nothing better for simply and cleanly reset your PC. If you have any difficulties, feel free to ask your questions in the comments.