Just as Microsoft has one of the world's best-known email clients, Outlook, the Redmond-based company has developed many other services around it. This can sometimes cause inconvenience when running certain elements that make the software work. For example, if you are having trouble with your Outlook files and cannot read their original format, in the following lines we will show you how change to of OST to PST, easy and fast, thanks to a specialized program.
But before going into details, it must be said that this tutorial is particularly useful for those who, on a daily basis, use Outlook 365, Exchange Server and Outlook.com. If for some reason you need to transfer messages, contacts, notes or notices to Outlook, you may come across some obstacles because there is no specific tool.
And what is the only solution we have then? Try to convert the .OST file, which is the one used by Outlook 365, Exchange Server, and Outlook.com, to the .PST format, which is the one used by Outlook.
At other times, this trick will allow you to ignore errors in offline data files of type .OST, be able to handle them in .PST, skip authentication with Exchange Server, etc.
Convert OST to PST, more easily with help
As we said before, sometimes there will be an urgent need to switch from OST to PST, but unfortunately we don't have any reliable online solutions to give us a hand.
Of course, luckily some developers have taken the trouble to create apps specifically designed to solve these little bits and pieces of big multinationals.
Stellar Converter for OST is precisely the app that we can trust and that delivers the best result.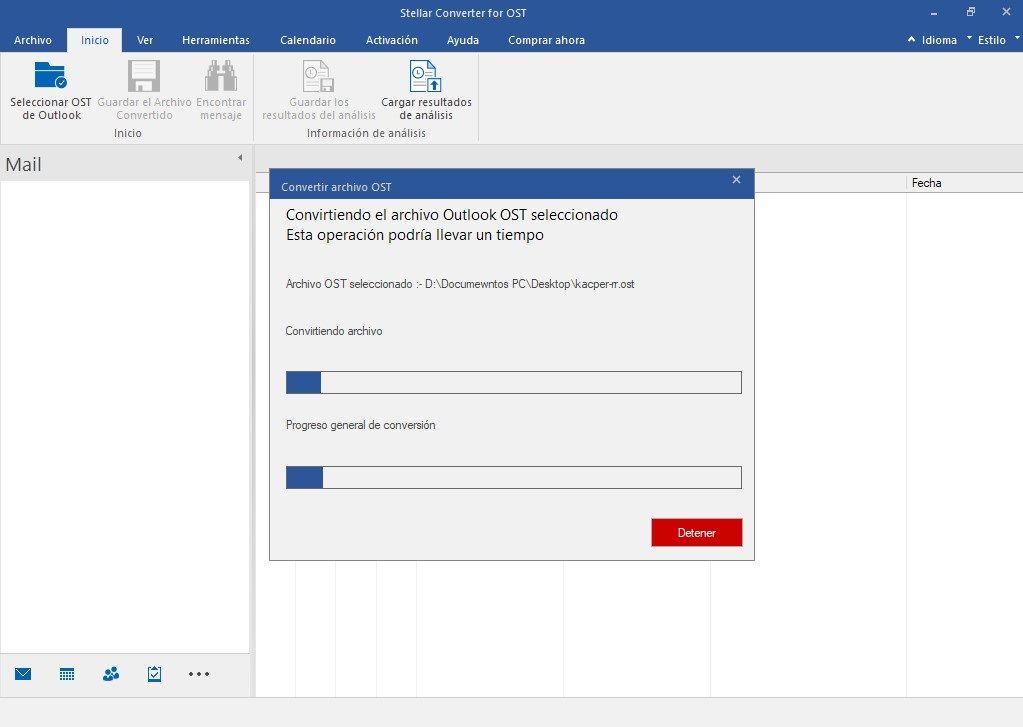 Features of Stellar Converter for OST
And why Stellar Converter for OST? Basically due to the OST to PST conversion provided by other similar programs, it adds a lot of extra features which save us from having to install other software. Here are a few of the ones we like the most, although you may discover more when you use it:
Windows 10, Windows 8.1, Windows 8 and Windows 7 compatible
Support for mailbox files, emails, attachments, contacts, calendars, tasks, notes, etc.
Supports compressing and splitting PST files before storage
After conversion, all files of the source OST are displayed
Various output formats such as PST, DBX, MBOX, MSG, EML, RTF, HTML and PDF
Suitable for batch and selective conversions
Converting power of encrypted OST files
Recover Deleted Emails
Resumption in the event of power cuts or unexpected shutdowns
Previews before saving content
Integrated search engine to find specific files
Function to save all contacts to a file in .CSV format
As we explained in the previous paragraph, it is not usual to find such complete converter programs. By batch converting, you can save a lot of time and the preview will prevent you from finishing downloading or converting files that you don't really care about.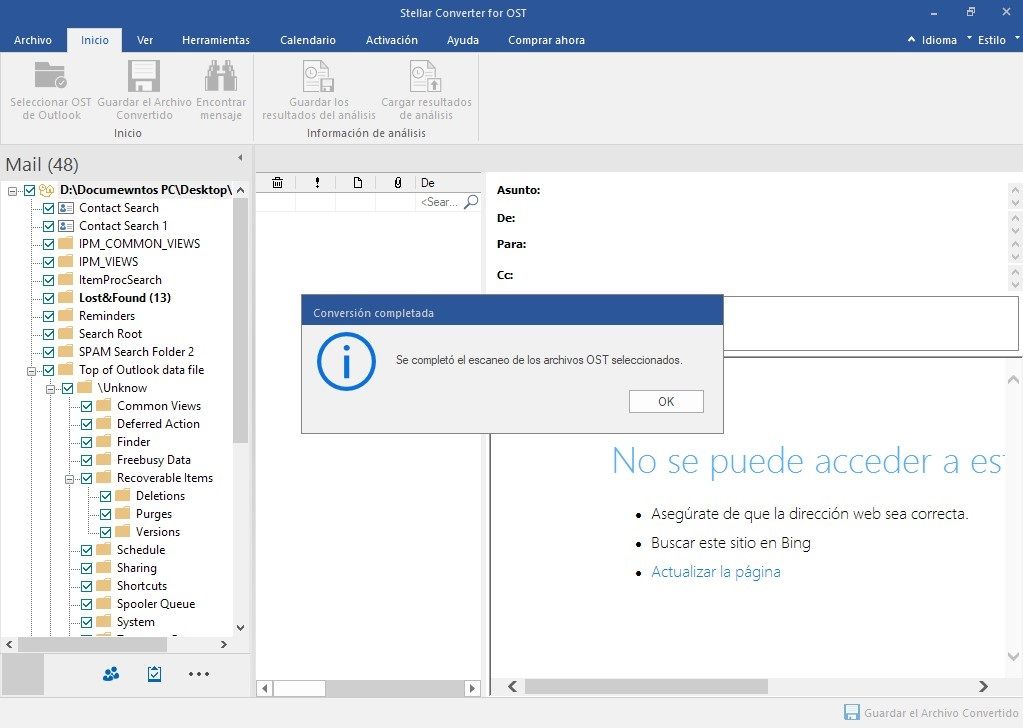 Having said that, you probably want to know what are the steps to convert from OST to PST:
Download Stellar Converter for OST on your computer from this link
Once it has downloaded you need to run the program
You will see that its appearance is very similar to other Microsoft environments, with a series of upper tabs
You have to go to "Select Outlook OST", explore your PC for this specific file
Once you have found the file (s) and opened it, you can start the conversion.
The system will scan the file for a few moments, and if everything is correct, it will start converting it immediately (during this time you can stop the process if you wish)
Then a message will indicate that "Scanning of selected OST files is complete"
Again at the top of the screen you need to go to "Save Converted File"
You can register it with no problem, but keep in mind that the free version has some limitations, which you can overcome if you buy the program for good.
This is the basic use of Stellar Converter for OST to convert your PST files.
Then you can use the search engine, perform analysis, choose other output formats, and much more.
Share this with your friends!