Wyze is one of the smart home companies to watch right now, offering a range of inexpensive devices that often sound too good to be true. Its biggest hit so far is the Wyze Cam and the latest model, the Wyze Cam v3, but the new Wyze bulbs give Philips Hue and other established names a run for their money.
The other good news is that Wyze devices work with Alexa and Google Assistant (no HomeKit yet, sorry). And while linking them together isn't the hardest thing in the world, Wyze doesn't explain the process very well in the app.
While the Alexa or Google Assistant integrations aren't as deep as we'd like, the biggest benefit is streaming from the Wyze Cam to a smart display or TV.
If you have an Echo Show, Echo Sport, or Fire TV device, you can ask Alexa to see the live security camera feed. Ditto with the Google Assistant via Google smart screens or a device connected to Chromecast, which includes any TV with a Chromecast dongle.
Below we will explain how to connect Wyze devices to the two voice assistants; each has a different setup process. But before you do anything, you need to configure your Wyze device in the Wyze app.
This means creating a Wyze account even if you plan to rely solely on Alexa / Google Assistant.
To get Wyze and Alexa talking, you need to activate the Wyze Alexa skill. Here's how.
1. Open the Alexa app and tap More below. To select Skills and games.
2. Search for "Wyze".
3. Select the Wyze skill, then press Activate.
4. Follow the instructions and link your Wyze account, which involves logging in with your credentials. If you pair a camera, you will need to give Alexa permission to access it.
5. Once activated, you may immediately be prompted to ask Alexa to discover devices. Otherwise, return to the menu and select Add device. It will scan the room and should find your Wyze device (s), at which point you can select them and assign them to a room.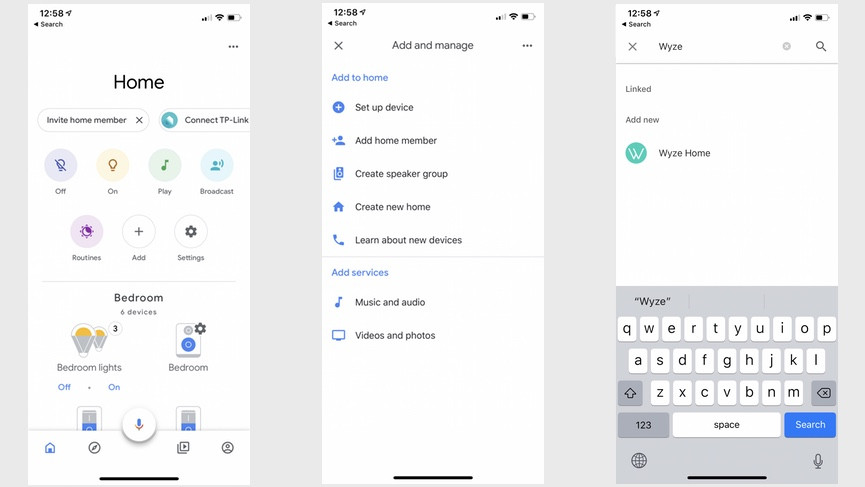 For Google Assistant, it's a little different process. Here is what to do.
1. Open the Google Home app.
2. Tap the + icon (top left), then choose Configure the device.
3. Press Have you already configured anything?
4. Search for Wyze, then connect your account by logging in.
At this point, the app should automatically connect all devices associated with your Wyze account.
More Google Assistant user guides