We cannot deny that Microsoft Teams is a powerful tool, especially in this new stage that we are living. The default settings for reviews work quite well. However, it can sometimes be boring. To avoid this, it is necessary configure Microsoft Teams notifications And in this article, we are going to teach you how to do it step by step.
We first open Microsoft Teams on our computer. Once opened, we will click on the profile picture and select the "Settings" option from the menu. Once we are in the control panel, we will have to look for the option "Notifications".
In this section we will be able to configure everything, whether we want to disable notifications or only some in particular. At the top we have several options that we can turn on or off.
Missed Activity Emails: These are basically the emails that will be sent when a message is lost in a chat, mention, or whatever needs notification. Obviously, we can turn it off completely if we don't want to receive multiple emails. We can even configure to only receive one email per day.
Show message preview: we can configure whether or not to display a pop-up window that usually appears at the bottom right of the screen. It shows an overview of the messages we have received. It can be annoying as they end up creating a distraction and sometimes it is difficult for us to write messages.
Play sound for notifications: Obviously, if you don't want to bother with sounds every time you get a notification, it is best to turn it off completely.
Then we find the "Teams and Channels" section where we will see the posts in the posts tab of each channel. In this case, the ideal is to choose personalized to be able to configure everything according to our needs.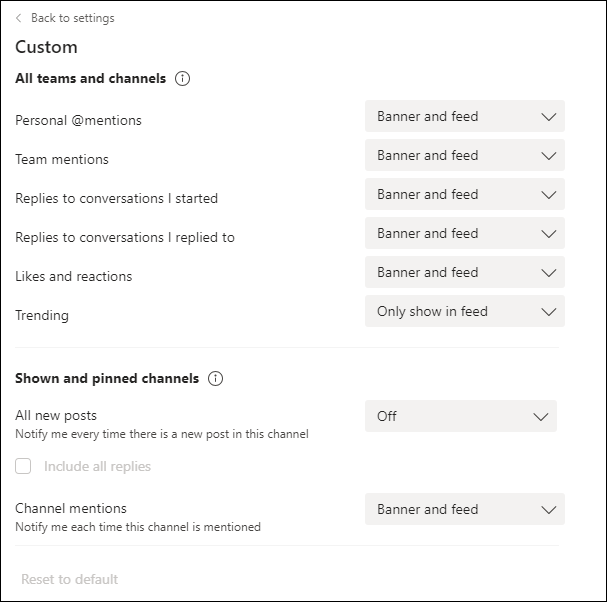 When we click on this option, the individual configuration of all devices and channels opens. Most of the drop-down menus that appear on the left side have three options.
Banner and Feed: It will show a pop-up window and also mark the channel with an icon to know that there are new messages.
Show only in feed: it will only mark the channel in question with an icon.
Disabled: It won't show a notification or pop-up window, or mark the channel with an icon.
When we have completed this section, we will simply return to the configuration by clicking on this option. There are only a few options left that focus on specific areas of teams.
Chat: Basically all notifications related to chat messages as long as they are direct, it doesn't cover a channel's tab.
Meetings – Notifications related to meetings or when someone posts something to a meeting channel.
People: Basically it will notify us when certain people are online.
Other: We can set up alerts to come when someone from Outlook joins Microsoft Teams.
In order to modify the options mentioned above, we will have to click on the "Modify" button which is on the right side of each one. Once you are done configuring them, just close the "Settings" panel and voila, we are able to configure Microsoft Teams notifications.
Share this with your friends!