If you want to make a playlist of multiple songs or videos with your friends, either from YouTube or YouTube Music, you can! For this we must learn how to collaborate on a music playlist on YouTube and YouTube Music.
We have the same taste with our friends for different styles of music, we want to create a list with them to discover new songs, to hear what they like. Are we going to share video by video? Song by song? No, the ideal is to create a playlist in collaboration with them.
The first thing we need to do is enter our YouTube access data. Next, we will click on our profile picture which is in the upper right part of the screen. A menu appears and you have to click on "YouTube Studio".
Now we are going to go to the "Lists" which are in the left sidebar and we will have to create a new playlist by clicking on "New playlist" in the upper right corner. We enter the name of it and click on create.
Obviously this step is necessary when you want to create a playlist. However, if it doesn't and you want to share one that already exists, you can skip it and continue with the guide.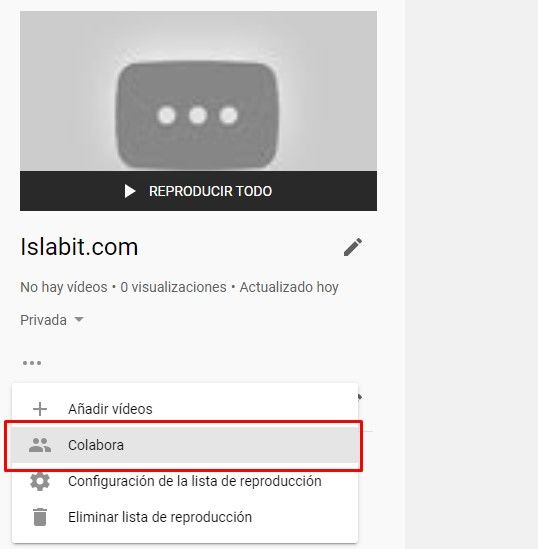 Once we have created a playlist, we need to open it and click on the icon with three horizontal dots. Some options appear, including the one that interests us "Collaborate".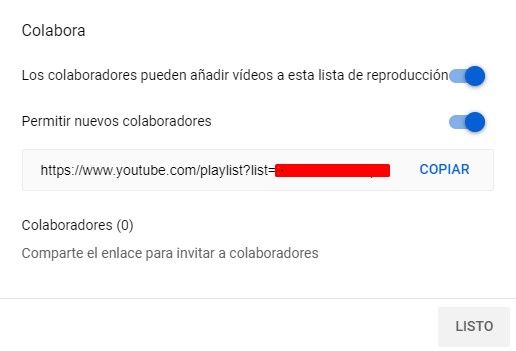 Next, we will activate the option "Employees can add videos to this playlist" and "Add new collaborators". You must also click on the "Copy" button to copy the address of said list.
The URL we copy will be the one you need to share to allow others to join and add topics. If you already have other collaborators, but you don't want someone else to become one, even if they have the URL, just uncheck the "Allow new collaborators" option.
Once you have everything configured, you just need to click on the "Done" button that appears at the bottom.
In the case of YouTube Music, it is relatively the same. We will need to connect to the official YouTube Music website. We will go to "Library" and then we will have to click on "New Playlist".
A window opens and you have to write the name of the list, then you simply click on "Save". Now we will open the playlist and we will have to click on "Edit playlist".
Share this with your friends!