When you send a message to a person via WhatsApp, you already know if it has been delivered and read or not yet thanks to a check or double check next to it which changes color depending on the status of the message sent.
For example, when this check mark is in gray color, it means that the message has been sent successfully, when WhatsApp displays a double check but gray, it means that the correspondent has received the message but without consulting it, and finally when the The application displays a double blue check mark always next to the message sent, this means that your correspondent has read your message correctly.
I summarize the statutes:
+ A simple gray check mark: The message was sent successfully
+ A double gray check mark: the correspondent received the message on his WhatsApp but without consulting it
+ A double blue tick: the message has been read by your recipient
This concerns checking the reading status of a message sent on WhatsApp, but did you know that it is also possible to check and even know the time at which your message was read by your correspondent!
How to check the time your WhatsApp message was read
For more information and details on your message sent via application including the time and date of receipt and playback, follow these steps:
1. First launch your WhatsApp application
2. Choose the sent message you want to check, then keep your finger pressed for a few seconds on it
3. Then press the button or rather the Info icon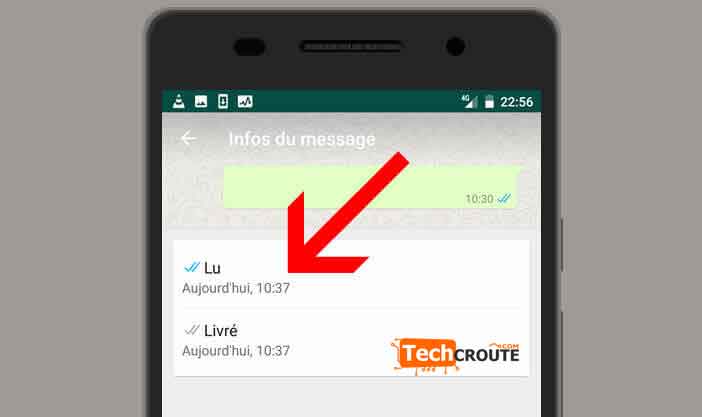 4. A new window is displayed with the message sent, its date and time at which your recipient received your message (Delivery date) as well as the date and time of its reading.