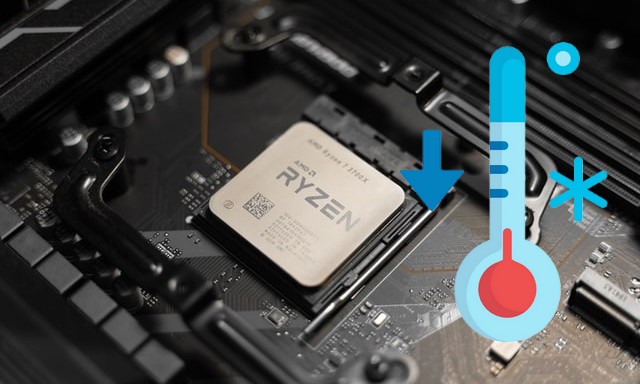 In this guide, we'll tell you how to check the temperature of a processor. Keeping your CPU temperature under control is one of the cornerstones of maintaining your computer. The processor is pretty much the brain of your computer, through which millions of calculations are performed, tasks are prioritized, and data is transformed into information on your screen.
A hot processor can cause throttling, which can impact your processor clock speeds and therefore slow it down. It can also cause BSOD crashes and accelerate the deterioration of your processor, giving it a shorter lifespan than it deserves.
To help you check your CPU temperature in Windows 10, we're going to show you the best tools you can use to monitor it.
But first, what is a bad temperature?
Unfortunately, what a good or bad temperature is for a processor is not immediately obvious. If you see that your processor idle temperature is 30 ° C, is that a good or bad idle temperature? What about 40 °, 50 °, 60 ° or 70 ° C?
If you want to know what the maximum temperature for your processor is, search the web for the product page for your specific processor and then find where it lists the ideal maximum temperature for your processor.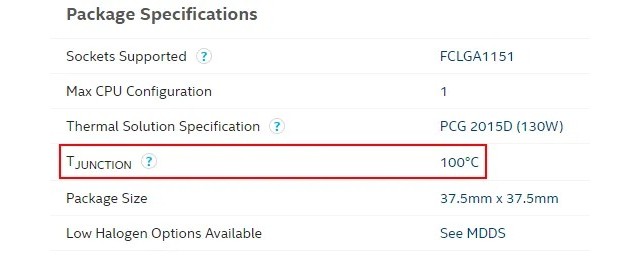 If the temperature is listed under something similar to "Maximum Operating Temperature" or "T Case," then this is the temperature you should strive to maintain your processor at most of the time. If it says "T Junction" (as above), the general advice is to keep things at least 30 ° C below that indicated temperature.
The game is an important variable here. If you play modern graphics-intensive games, not only will your GPU be under load, but your CPU will also be under load. Again, CPU temperature limits vary widely, but under a heavy gaming load it is not uncommon for temperatures to soar in the 80s. In most cases this is perfectly safe ( although a little warm on the palms of laptop users), and you only need to start worrying if you slip into the 90s.
Now that we know what the temperature limit is, it's time to explore how to check the CPU temperature in Windows 10. This requires the help of third-party programs, which will help keep an eye on the CPU temperature.
1. Throttlestop
We have talked a lot about the undervoltage tool Throttlestop. The lightweight tool allows you to undervolve your processor to only cool temperatures and prevent throttling, allowing your processor to run more efficiently.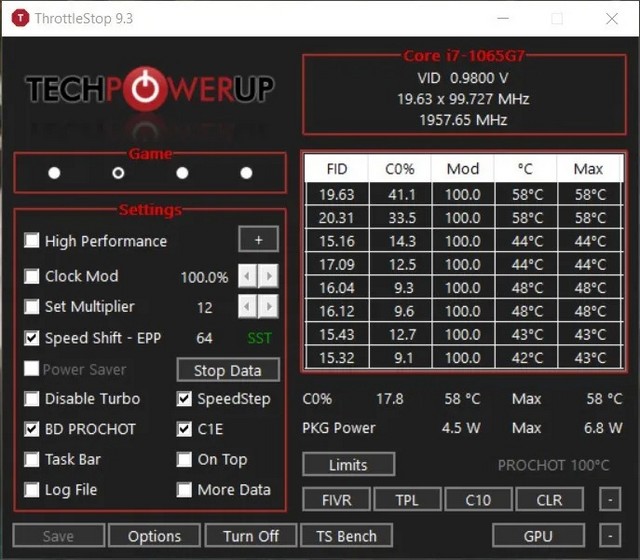 It's worth considering the undervoltage if you want to cool down your CPU, but as an added bonus, you can also use Throttlestop as a CPU temperature monitor.
First of all, you can see each individual core temperature directly in the main Throttlestop window, but you can also bring up your processor temperature in the notification area of ​​your PC.
To do this, click on Options at the bottom of Throttlestop, then in the middle, check the "CPU Temp" box.
Now every time you open Throttlestop you will see a small number in the notification area of ​​your taskbar telling you the temperature of your processor at that time.
2. HWMonitor
This tool does more than just monitor CPU temperatures, but on one screen, you'll find all the information you need and more. In the main pane of HWMonitor, you can scroll down to see your CPU listed with all of its information.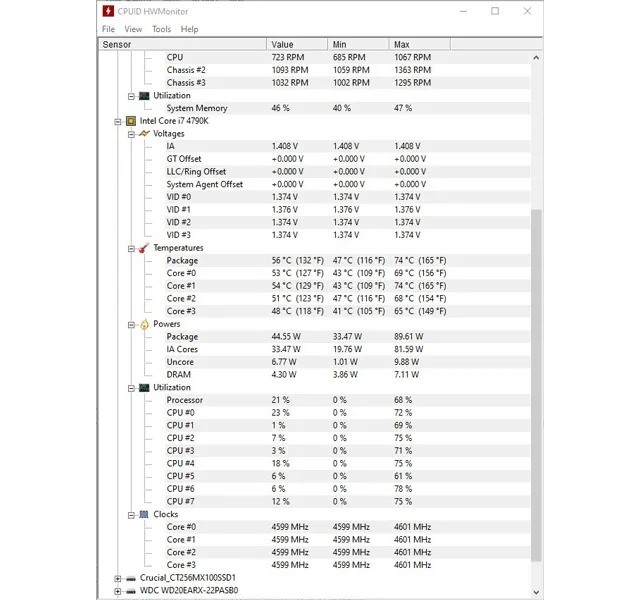 You will see the voltage of each core, the amount of CPU used and, most importantly, the temperature of each core. It displays the current temperature as well as the minimum and maximum temperatures.
There isn't a ton to dig in here because everything is displayed on this screen. You can turn on a dark mode for those nighttime monitoring sessions, activate a status bar, and quickly save a log of your monitoring data with the shortcut Ctrl+S.
3. MSI Afterburner
Designed for gamers and for those who want to overclock their PC, MSI Afterburner is also a great tool for monitoring the temperature of your PC. Once you've installed and opened Afterburner, you should see a graph on its home screen showing you your GPU temperature, CPU temperature, and various other data.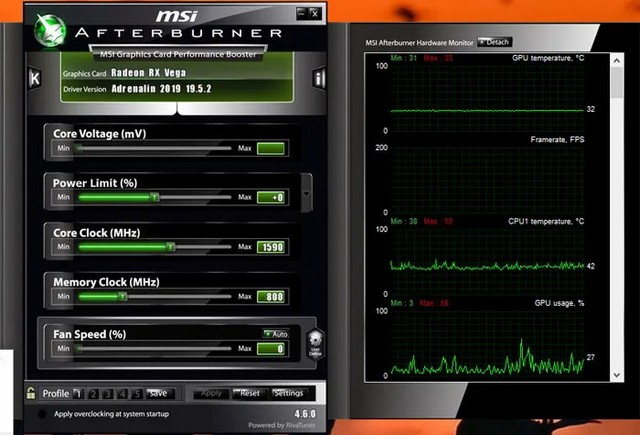 To rearrange the graphics and prioritize the CPU temperature so that it appears near the top, click "Settings" in Afterburner, then click the Monitoring tab. Here you will see a menu where you can check the items you want to appear on the home screen and drag up the items you want to appear near the top. Simply drag "CPU1 temperature", "CPU2 temperature" and all other processor temperatures near the top of the graph, then click OK. They will appear on the Home screen in the order you choose.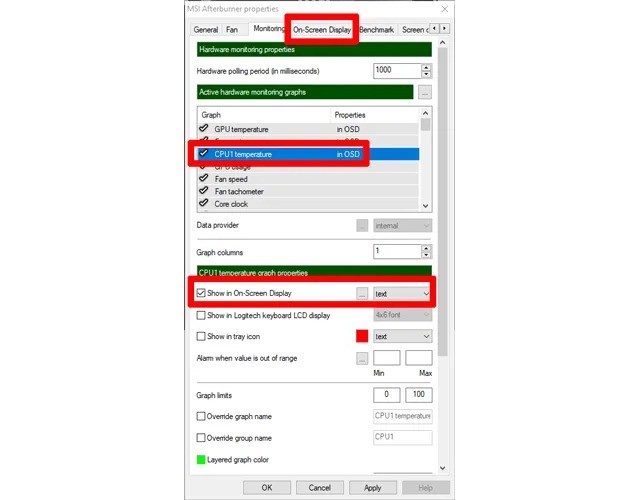 When you select the "CPU" temperature, you can also check the "Show on screen display" box so that it appears in the corner every time you enter the shortcut to display the OSD. (You can choose which key you want to use by going to the "Screen Display" tab in Afterburner's settings.)
4. Open Hardware Monitor
Open Hardware Monitor is a good solution to get all your needed stats in one place. This will be able to tell you what your CPU temperatures are as well as your GPU temperature, the voltages used in your computer, and even how fast your system fans are going. This makes it a sturdy tool that allows you to keep an eye on all the temperatures in your system.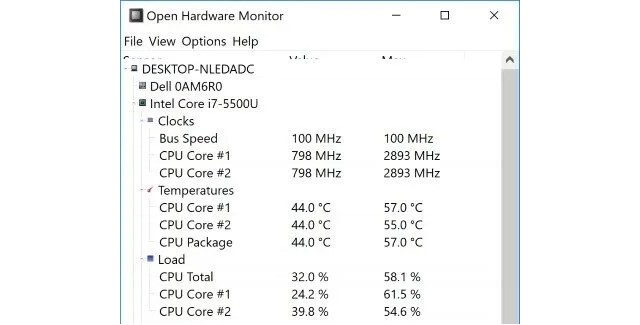 You can find your CPU temperature in the category along with your CPU name. It will list a temperature for each core of your processor.
Many of these temperature monitors allow you to put readings on your taskbar. This is especially useful if you are performing intensive system tasks and want to keep tabs on your temperatures without going back and forth between the active window and the system monitor. If you want to see the processor temperature in the taskbar, right-click on the temperature itself and click "Show in status bar".
If the reading ends up hiding in the "extra" icon section, you can drag it to the main active tray. This means that it will always be visible as long as you can see the taskbar.
5. Core Temp
If you want something a little more focused on the processor itself, Core Temp is a good choice when you need to check the temperature of the processor in Windows 10. It gives you everything you want to know about your processor, like its name, the cores it uses and, most importantly, its temperature. It will even notify you of your processor's T-junction limit, listed as "Tj. Max "above your temperatures.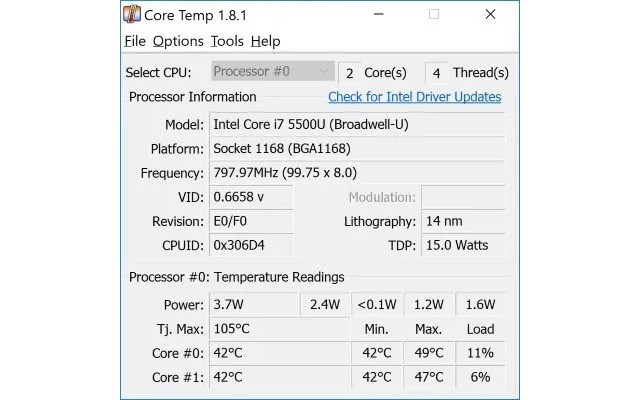 If you want to see the temperature in the system tray, it should be enabled by default. If this is not the case, click on "Options", then on "Settings".
Click on the "Windows taskbar" tab, then "Activate the functions of the Windows 7 taskbar", followed by "Temperature", then "OK".
Conclusion
In this guide, you have learned how to check the CPU temperature in Windows 10. If you have any questions or suggestions, let us know in the comments. In addition, also consult this guide if you want to learn how to speed up your Windows 10 PC.