If you are having trouble changing the name of the Youtube channel, read more to know the methods to change the name of the Youtube channel.
The day I launched my YouTube channel, I felt on top of the world. But doesn't it take that long anymore to realize that there was something wrong that was obstructing my path to growth?
But what was it?
Everything was going well in my opinion. I had already made all the settings and also added all the required details. Even the content I uploaded to my YouTube channel was good enough, although I wasn't getting satisfactory engagement.
How to change the name of the YouTube channel
I did extensive research, asked different experts, and then got the final hint. It was quite surprising for me too. The name of my YouTube channel was creating a barrier to engagement. Quite surprising but it's true.
Just like other important things, the name of the YouTube channel is one of the most important parts of how people define it and understand your channel. A YouTube channel name often appears on your videos, in YouTube search results, and on the Channels page. It is the way to represent your brand. So you have to be very careful when selecting the name of the YouTube channel.
If you are also ready to change the name of your YouTube channel, this is the guide that will provide you with an easy way to use it. Changing the name of the YouTube channel is quite straightforward and is easily accessible through Android, iOS, and Windows operating systems.
The only things you need to do to change the name of your YouTube channel are:
Log into your YouTube account using your registered email address and password.
Tap on the account icon which is usually available in the top right corner and once you do, a drop down menu will appear on your home screen.
Then you need to select the Settings option to continue the process.
Once the above process is completed, a new page will appear on your home screen. It will include the name of your current YouTube channel,
Just tap "Edit on Google" next to your YouTube channel name.
Then change the name of your current YouTube channel to the new one and once you're done just hit the 'OK button to confirm the same.
Bingo! You have now successfully changed the name of your YouTube channel. The new name will appear on videos on your YouTube channel and on comments you make on other videos.
Open Youtube and login to your account, to login you need to enter your email id and password.
Click on the account profile icon at the top and the menu will be expanded.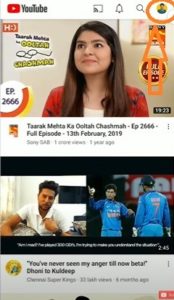 Click on the profile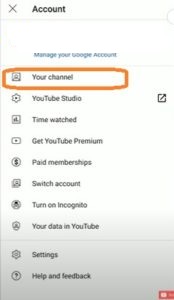 Tap your channel
Click the Channel Settings option.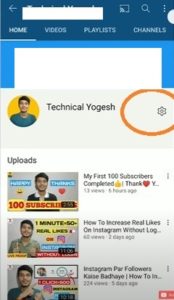 Click Settings
press edit your current name with the new name you chose and press ok.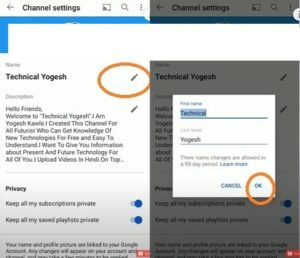 Click Edit, enter a new name and press OK
As before, you need to log into YouTube with your credentials.
If you want to change, select Personalization> Basic information. to update your channel name Click on Edit and enter your new name. Click Publish.

Edit the channel name and click Publish
if you want to change your profile picture, open the personalization, then click on Branding, click on upload and choose an image to edit, then click on Publish finally.

Change image and publish
First of all, you need to open YouTube and sign in with your email id and password.
Click on your profile picture at the top of the corner and click on your channel.

Click Customize Channel
Now a new page will appear and click on Customize Channel Option.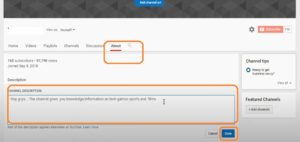 Change the channel description and click Done
then open the About tab and under "Description" select "Edit".
finally, enter your new description, then click Done.
Things to keep in mind
Changing the name of the YouTube channel is still an easy process, but still cannot be done often enough due to YouTube's privacy policy. YouTube only allows you to change your channel name 3 times every 90 years. It usually takes a few days to update and display the new name on your YouTube account. So, wait patiently and don't panic if you feel like it is taking a little longer.
We would prefer that you keep your YouTube channel account and your Google services account separate, as changes made to them on your YouTube account may also affect the same. The main reason behind this is due to a legacy from Google+. You can easily fix the same to get to the YouTube channel much more easily.
Are you ready to grow with your YouTube channel?
Growing up with a YouTube channel and starting to earn with it is something the majority of YouTubers love. Subscription to YouTube is free. If you're ready to keep your Google account and your YouTube account well separate, the best thing to do in the league is to create a branded account.
Yes……..
Your brand ………
The brand account usually offers different benefits. It not only gives you the freedom to customize your channel name, but also gives you the freedom to manage multiple channels just by using a single Google account. The best thing about establishing a brand name here is that it doesn't affect your personal Google Account. Now you can easily add different managers and owners to your brand account who can further help you manage different YouTube channels efficiently.
The whole process is pretty easy. Once you've finished creating a branded account, all you need to do is move your YouTube channel to that branded account. However, the process is long but still easy to use and you can also do it easily using your smartphone.
Work on your content and get more views
A perfect YouTube channel name can't work to grow your account visitors. You also have to work on your content to grow over time. Content is the king of any blog or YouTube channel. It decides the present and the future of your YouTube channel or blog. Good content helps you grab the attention of millions of customers. But if it's not good, it can also eliminate the chances of your growth.
YouTube is pretty strict on its privacy standards. Introducing illegal or copyrighted content may cause you to face concrete action in the future. So make sure you are playing a safe game. If you are ready to enjoy fast, high-end results, it is always best that you go for the trending niches.
Faq
Question 1) How many times can we change the name of the channel?
Answer) Within 90 days, you can change three times.
Question 2) How can the description be changed?
Answer) The process for changing the description is mentioned in the article.
Question 3) How many times can I change the image?
Answer) You can change your profile picture multiple times.
Question 4) Will the use of Youtube cost?
Answer) you don't pay to use YouTube.
Conclusion
The journey to a successful YouTube channel has certainly not been easy for me. I ran into a lot of issues just because I didn't have a perfect YouTube channel name. I think I'm not just the one who made this stupid mistake in my life, there are certainly others who fail to ripen the fruit just because of this stupid mistake.
To help my readers, I've put together a simple process to change the name of your YouTube channel. Hope this helps you change your YouTube channel name quite effectively. Make a brand on YouTube and try to move around with it to enjoy seamless access across multiple channels.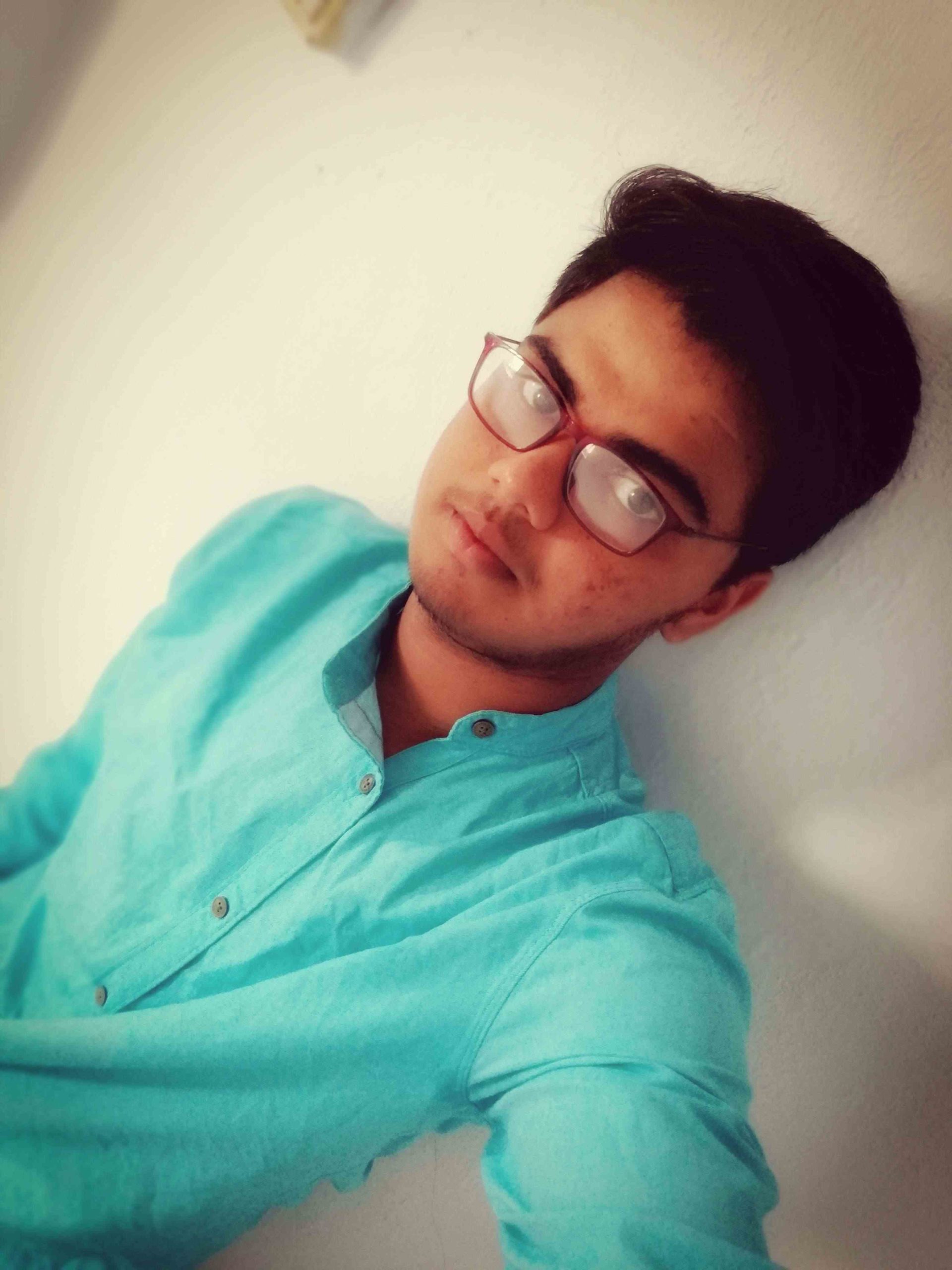 My Self Pardhu, I am an editor and author at OMGeeky. In fact, I am a tech enthusiast who always wants to share tech related topics with my users. Apart from that I like to travel, I like sport, I am listening, building emotions, team player, photographer, racing bike, driven by values, I am a graduate, mountain trekking.