This article explains how to change the keyboard on a Fire tablet. Instructions apply to all models of Amazon Fire tablets.
How do I change the keyboard on my Amazon Fire tablet?
Follow these steps to replace the original Amazon keyboard on a Fire tablet:
1. Go to the Amazon Appstore on your device and download a third-party keyboard app. A search for "keyboard" will return dozens of free apps.
Some keyboard apps will install automatically after downloading them, while others will require you to open the app to install it. You might want to grab a few so you can try different ones.
Tip: You can install google play on your fire tablet to see even more application options.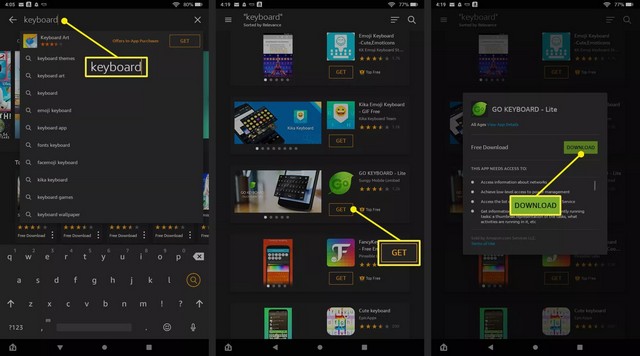 2. Open the app Settings on your Fire tablet.
3. Scroll down and tap Device Options.
4. Press Keyboard and language.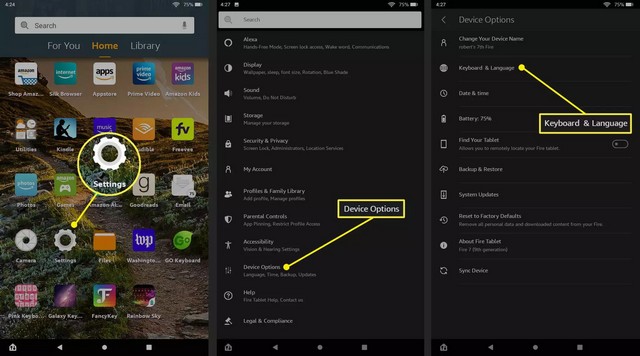 5. Press Show/Hide Keyboards.
6. Scroll down to the section Third party keyboard and tap each of the keyboard apps you downloaded to activate them.
7. Return to the Keyboard & Language screen and tap Current keyboard.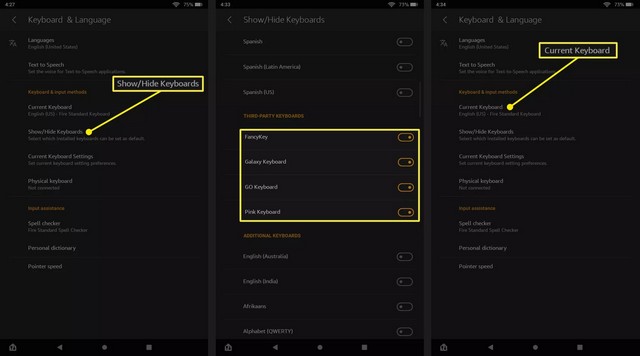 8. Choose your preferred default keyboard.
9. When you return to the previous screen, press again Current keyboardthen press Keyboard settings.
10. The settings you see depend on the keyboard app you're using. Some will direct you to the device's default keyboard settings while others offer advanced customization options.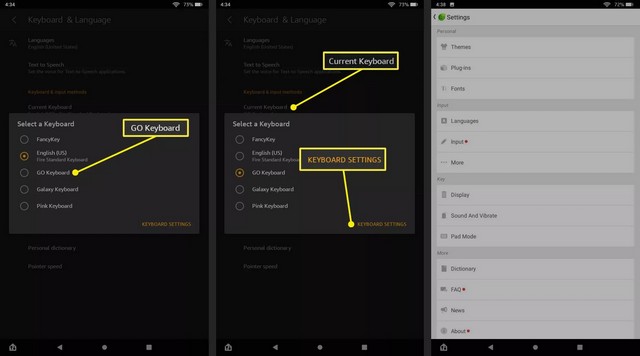 11. If you want to switch between keyboards, tap a text field to display the keyboard, then tap the icon Keyboard in the navigation bar.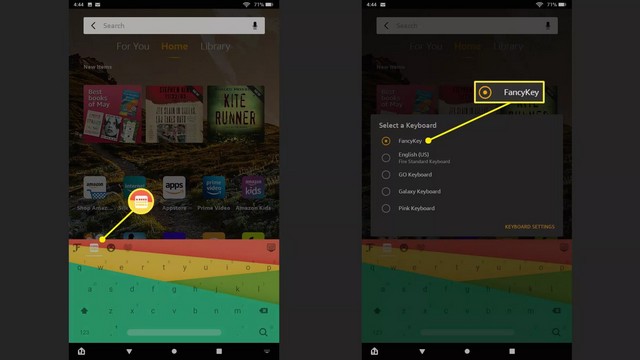 Bluetooth keyboards for Amazon Fire tablets
If you prefer, you can get a Bluetooth keyboard for Fire tablets from Amazon. The keyboard includes a docking station so you can use it as if it were a laptop. There are third-party keyboards that claim to support Fire tablets, but it's best to buy direct from Amazon.
Important : Not all Fire tablets are compatible with Bluetooth keyboards. When buying keyboards, check which tablets the keyboard supports.
FAQs
How do I connect a wireless keyboard to an Amazon Fire tablet?
First, put your keyboard into pairing mode according to the manufacturer's instructions. Then, activate Bluetooth on your tablet: go to Settings > Wireless > Bluetooth and enable the feature. Finally, choose Pair a Bluetooth device and select your keyboard when it appears.
How do I connect a keyboard to an Amazon Fire tablet?
A wired keyboard must have a USB-C cable (or adapter) to connect to a Fire tablet. You typically use this port to charge the Fire, but you can also plug accessories into it. Just make sure any keyboard you get is compatible with Amazon Fire.
If you have any questions or suggestions, let us know in the comments. Also consult this guide if you want to learn how to set up an amazon fire tablet.