Here's a piece of news that will appeal to those who don't like the Music app and prefer Spotify and others. Note that it is possible, since the arrival of the beta of iOS 14.5, to change your default music application on your iPhone.
Many new features are coming with iOS 14.5 on iPhone. These include support for the use of Xbox Series X and PlayStation 5 controllers, or even unlocking an iPhone with Apple Watch while wearing a face mask. Because for the moment, only a small manipulation exists for force Face ID to unlock your iPhone with face mask. But not only: other interesting novelties are also on the program. One of the notable new features of iOS 14.5 is the ability to change the default music app on iPhone (or iPad). If you already have installed the beta of iOS 14.5, here's how.
How to change the default music app on iPhone or iPad (from iOS 14.5)
Here are the steps one by one to change the default music player on iPhone and iPad. For now, this is the only existing method. It requires necessarily the update to iOS 14.5 or iPadOS 14.5. This method does not work with other versions of iOS and iPaOS. Be careful, be sure to read Apple's recommendations before install the beta of iOS 14.5.
Activate Siri in Settings > Siri and search
Ask ‌Siri‌ to launch an artist, a song or an album. For the example here, we asked " Hey Siri, put on the latest Oasis album "
‌Siri‌ will then display a list at the top of all music apps that you have installed and will ask you orally " Which app do you want to use? »(See 1st image on the left below)
Select or Orally tell Siri your favorite music app in the list. Here we have selected Spotify.
If prompted, confirm that ‌Siri‌ can access your music app data (2nd image below)
The music of your choice should launch with the app of your choice (3rd image below).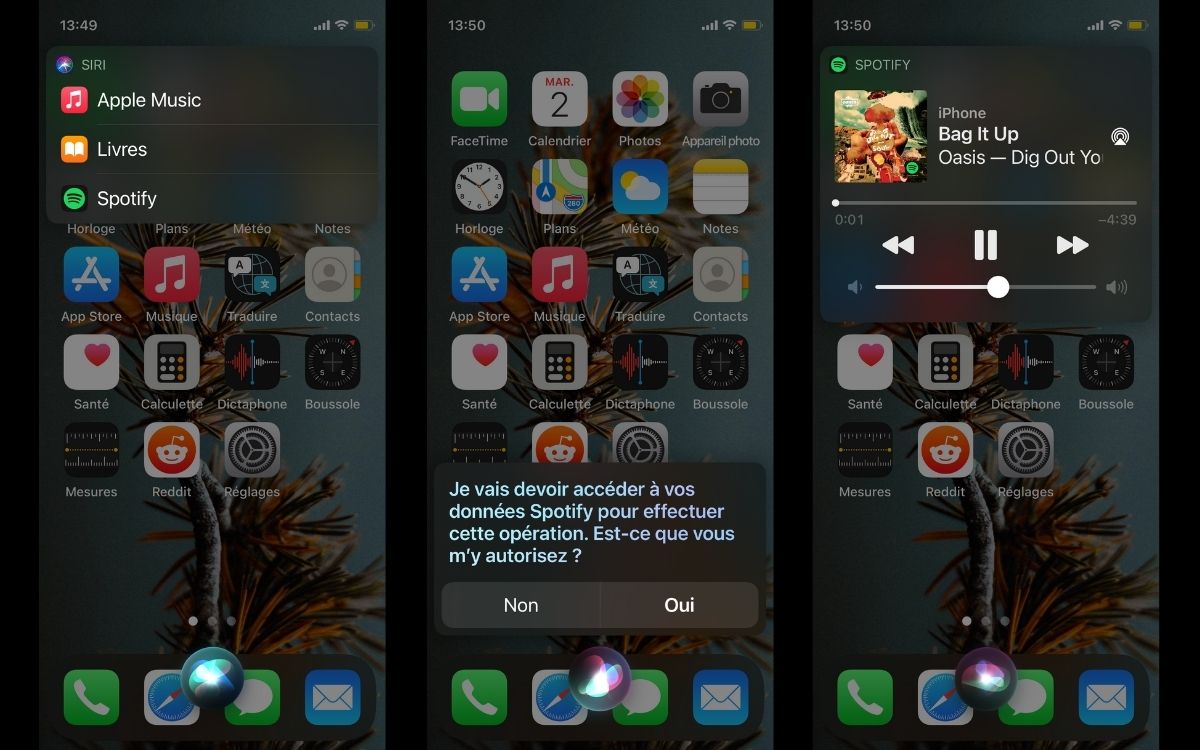 That's it. From now on, ‌Siri‌ will launch your music in the app of your choice. If you chose Spotify, for example, music content will now be played in Spotify. ‌Siri‌ will tell you which music app was selected while playing the song, and you will also be able to see the icon of that app in the playback window that will appear.
Keep in mind that the default choice may randomly revert to Apple Music, in which case you will have to start the operation again. Likewise, you can simply do the same, but quote Apple Music, if you want to go back.
iOS 14.5 should be available in spring 2021. The next update to the iPhone operating system is currently still in beta.