We always like to personalize pretty much everything, it's something normal. For this very reason change chat background in Telegram It is not at all strange and the app allows us to do it without any problem. A little further down, we'll take a step-by-step look at everything you need to know to achieve this.
get customize the chat background on Telegram it is an extremely simple process. We can add any kind of image we want, whether we upload it from the internet or add a photo from our device gallery.
Change the background of conversations on your phone
Telegram allows us to add effects, add wallpaper, apply a pattern, adjust the intensity of colors, etc. Anyway, we can pretty much do whatever we want in the background of the chats, because it's a free Telegram feature and we'll show you how a little further down.
As soon as we enter Telegram, we are going to have to enter the "Settings" section, which we can do from the lower right corner of the screen.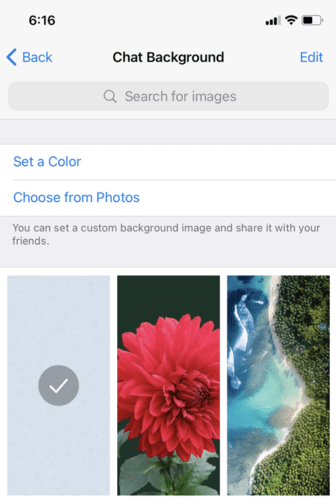 We are going to scroll down until we find the "Appearance" section and we will have to choose "Discussion Background". Here we can choose a default background that the app offers us or we can choose an image from the device gallery.
Change the background of Telegram chats in Windows
We start the Telegram PC application and we will have to go to the lower left corner of the screen to press the three horizontal bars. A small menu opens where we will choose "Settings".
We will have to look for the option that says "Chat Settings". We will go to a new screen where we will have to select "Chat Background" and we will find two options:
Choose a file: we will be able to select any type of file that is in the gallery of our device.
Make your choice in the gallery: we can choose between the different options that Telegram offers us.
Once we select a background, it will be applied automatically, we don't have to do anything else and in this easy way we already know how to change the chat background in Telegram.
Share this with your friends!