It is absolutely necessary to be able change screen brightness in Wear OS or a cell phone at different times of the day. It is obviously not the same to walk down the street as to sit on the sofa in our house. At the same time, you have to be careful not to overdo it in terms of screen brightness, not just for the sake of vision. Otherwise also to save the battery.
Change screen brightness in Wear OS
We can find watches like the Fossil Gen 5 LTE which has a built-in ambient light sensor, with which you can automatically change the screen brightness according to the ambient light. Even the TicWatch Pro 3 GPS has an ambient light sensor when we keep the AMOLED screen active.
When we are in an environment where we have too much light, we will have to adjust the brightness of the screen. Even when we are in a dark place, we must also do this. However, many watches have automatic adjustment and we don't have to worry too much about this. You may want to take control of the situation and adjust screen brightness in Wear OS give it a more personal way.
To change the screen brightness in Wear OS, we will have two options. The first would be to slide your finger down from the top of the screen to see the quick changes.
If you see a sun icon, you'll need to tap it. Then you can tap the plus or minus icons to change the screen brightness. If you don't have these icons, we can try another method.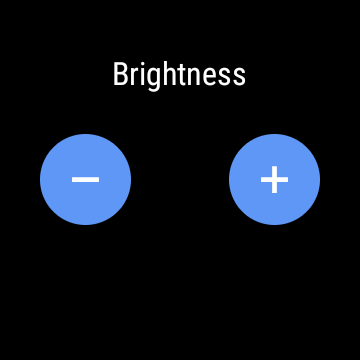 We will have to enter the clock settings. With the quick options on the screen (we access these options by sliding our finger from top to bottom), we will have to tap on the gear icon to be able to access settings or configuration.

Once we are in configuration, we will have to select "Display" and then we will look for the brightness parameters in the list.

In case the watch does not have an ambient light sensor. We will have to press the plus or minus sign to manually adjust the brightness. If the watch has an environmental sensor, we will need to press the switch first to turn off auto brightness.
When turn off automatic brightness, we will be able to see a digital list. One would be the darkest while five is the brightest.
You have to keep in mind that if you turn off auto brightness to change it. Whenever you need to adapt the screen to a new environment, you will need to change the brightness from the configuration options.
Share this with your friends!