While learning How to change the last name at Roblox It is an extremely simple process that we can do from the website. The only thing we need to keep in mind is that you need to have 1000 Robux (the in-game currency) to be able to do this.
Therefore, if we have the Robux, the only thing we are going to have to do is enter the Roblox website and follow the data that we will leave for you in the next guide.
Change my name on Roblox
Once you have logged into the Roblox website, we will need to go to the main page and click on the gear icon which is at the top right of the screen. A new menu appears with a few options, the only one that interests us is the one that says "Configuration" which would be the first.
In the configuration page, we will have to look for our username and then click on the pencil on the right side, which will help us to edit said name.

To be able to change or Edit the last name of Roblox, we will need to have a verified email address and most importantly, 1000 Robux. In case we don't have enough, the option will appear to be able to buy them with real money.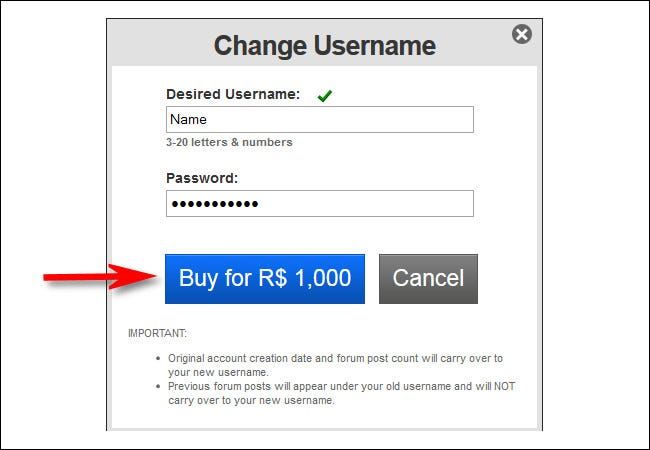 In case you have the Robux, a pop-up window will appear asking us to re-enter the username we want to have from now on and the account password.
Once confirmed, the username will change. Everything will be converted to this new username, regardless of the referral type in the game. However, any messages you may post to the forum will remain with the username you had before. It is a rule to avoid abuse and unpleasant situations for everyone.
You can change the username as many times as you want. The only thing you need to keep in mind is that every time you change your username you will need to pay the Robux amount we discussed earlier.
Share this with your friends!