Now that Nest has joined Google's hardware team, the two are fully integrated, but one of the two companies' earliest collaborations was a feature that let you watch your Nest smart home security camera on a big screen via Chromecast. – and a little help from the Google Assistant.
Once everything is set up, a simple voice command or typing is all it takes to see the live video on your TV (or any Chromecast-enabled device you own, like a home hub). You can also switch between multiple cameras quite easily, so it's a great way to check out your property from the comfort of your sofa or bed. You basically get the same feed that appears in the Nest app, but on a much larger screen.
Guide: How much does Nest Aware cost?
We'll assume you've already set up your Nest cameras and Chromecast devices in the house. Follow the quick start guides that come with both, install the Nest app for Android or iOS and the Google Home app for Android or iOS, and you'll be ready to get Nest and Google to work together.
Once those devices are up and running, here's how you pair them.
Operate your Nest camera with the Google Assistant
To stream your Nest stream to your Chromecast, you just need a device that runs the Google Assistant – it doesn't have to be your Nest Audio or Google Nest Mini.
Heck, you can even use your Android TV with Chromecast built-in. There are a number of permutations here, but they all require the same amount of configuration.
You'll need to head to the Google Home app, making sure your camera and Google Assistant device are on the same Wi-Fi network.
From there, we just have to make sure everything is in sync.
1) Press +.
2) Click on Configure the device.
3) Click Configure new devices.
4) Tap the house you are using.
5) Choose the device you are pairing.
6) Click Finished.
Now, if you haven't already paired your Chromecast or TV, you will need to. To do this, open the Nest app on your phone, tap the gear icon in the top right, then choose Google Assistant from the menu that appears. From there, you'll just need to pair the Google Assistant.
Start streaming video to your TV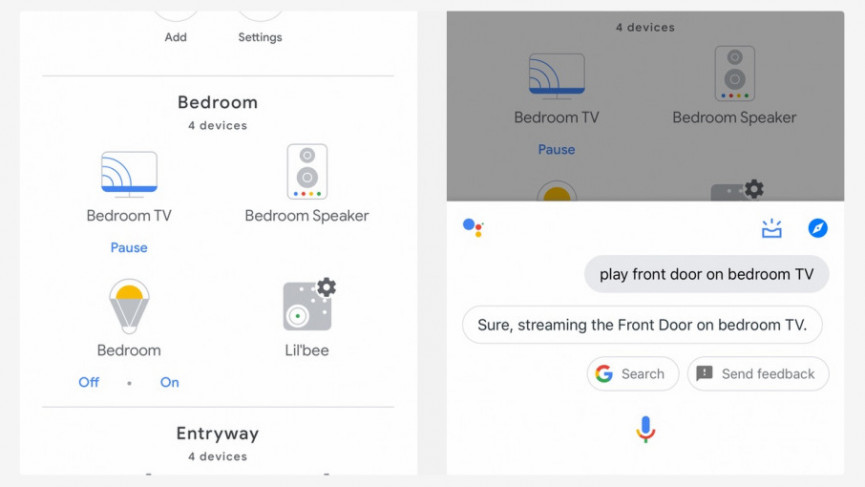 Now that you're ready to start streaming, there are a few ways to do it. Each of your cameras has a different name and corresponds to each of your Chromecast. This won't be a problem if you have one of each, but you will need to keep the names in mind if you have a larger house with multiple appliances.
Start with, "Hey Google" or "OK Google" and then you can say, "Show [camera name]", "what's up [camera name]" or "[camera name] sure [Chromecast name]". If that doesn't feel very natural to you, don't be afraid to add a "game" or "show" in front of these.
Update: Nest Cam Outdoor IQ 2020 review
Now, to change the name of a Nest camera, go to the Nest app, tap the camera feed, and then tap the cog icon in the top right. You can change its location and name by pressing the Or button. For Chromecast devices, go to the Google Home app, tap your Chromecast gear icon on the name of the main device, then Settings so what Last name.
When you are tired of the security flow say, "Stop [Chromecast name]". Your Chromecast reverts to the usual rotating wallpaper slideshow until you give it another job to do.
Troubleshooting problems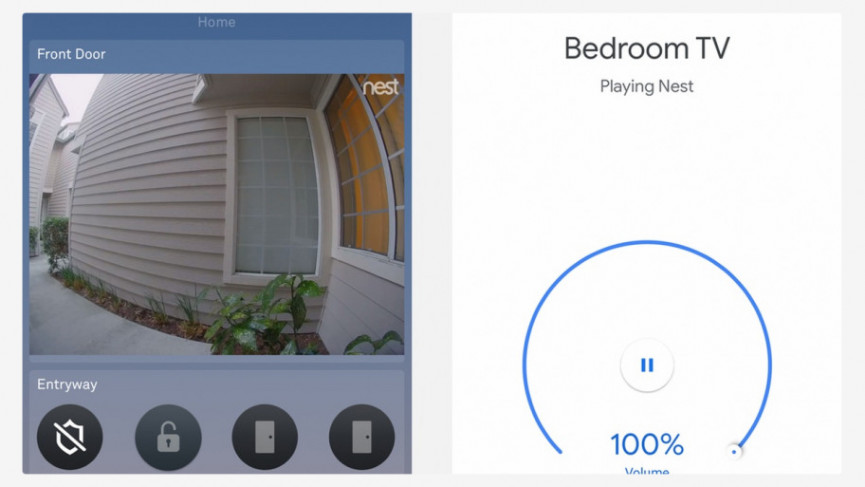 Hopefully everything will be up and running for the first time. If something goes wrong, the most basic issues are usually to blame – maybe one of your devices doesn't have a strong Wi-Fi connection or has gone into sleep mode.
Go through all the steps again to make sure you don't miss a thing and make sure your Nest camera is connected to the Google Assistant. And of course, make sure you have both devices on the same Wi-Fi network. From there you can ask a few questions: Is the Chromecast working properly? Can you transfer content from other applications to it? Otherwise, you may need to reconfigure the dongle first.
Reinstalling the Nest and Google Home apps can also make a difference in fixing spotty connections, as it forces them back to their default settings and (in theory) wipes out any corrupted data or misconfigured settings that have crept in. while you're using your Nest camera or Chromecast.
Restarting your router and phone, as well as resetting your Chromecast and Nest camera, can help, although it might take a while, so only start over as a last resort. Basically, you're going to be setting everything up again from the start, to reestablish connections and make sure all of your devices can see each other.
Right now this functionality is pretty basic. – you can put the Nest camera on the big screen and that's about it – but over time, we expect Google to add more features, as it continues to make Google Assistant the future of almost everything.