What there is to know
Log in to your Stadia account> Stadia Settings> Purchases & Subscriptions> Unsubscribe to cancel your subscription.
Your subscription is canceled from the next billing date, not the date you cancel.
All purchased games remain yours to play regardless of a Stadia Pro membership.
This article shows you how to cancel a Stadia Pro subscription and explains what happens to any purchased games you may have on Google Stadia, as well as any other restrictions related to your Google Stadia account.
If you've decided to cancel Google Stadia, the process is pretty straightforward once you know where to look. Here's how to cancel a Stadia Pro subscription from your browser.
While other browsers may work, Google recommends that you use Chrome to interact with all things Google Stadia.
Click on Log in to connect you.
Click on your profile picture.
Click on Settings stadia.
Click on Purchases and subscriptions.
Click on Unsubscribe.
Click on one of the options to explain why you are canceling.
Click then.
Click on Yes, Cancel.
Your account is now canceled on your next billing date.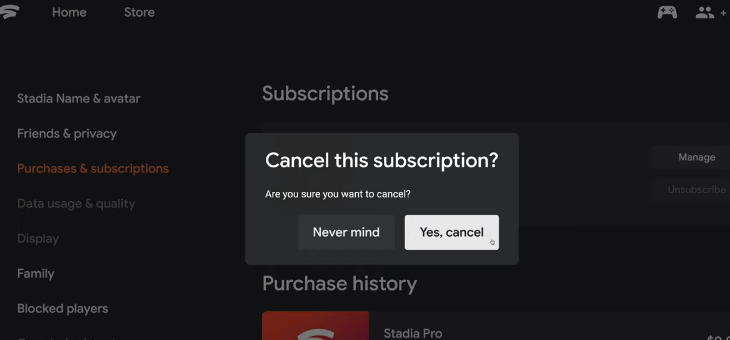 If you want to cancel your Google Stadia subscription through the Stadia app, the process is similar. Here's how to cancel the Stadia subscription through your phone.
The process is the same on Android and iOS with the screenshots demonstrating the iOS version of Google Stadia.
Open the Google Stadia app.
Tap your profile picture.
Press on Purchases and subscriptions.
Press on Cancel subscription.
Tap a reason you're canceling your subscription.
Press then.
Press on Yes, Cancel.
Your account is now canceled as of your next billing date.
What happens when you cancel a Stadia Pro subscription?
Even if you're determined to cancel your Stadia Pro membership, it still helps to know exactly what that means for you. Here's a quick rundown of what happens when you cancel your subscription.
The subscription is canceled from your next billing date. If you still have some time left on your monthly billing, you can still play until the date your next payment is required.
You lose access to any games that you claimed for free while a member. If you claimed a free game while being a member of Stadia Pro, you cannot play it after your subscription ends.
You can still play purchased games. Any games you have purchased, whether as a stadia pro member or otherwise, remain yours. You can continue to play anything you've purchased through Google Stadia without needing a Stadia Pro subscription.
The quality of your feed will be reduced. Stadia Pro subscribers can play games in up to 4K quality and 5.1 surround sound. If you're a regular Stadia user, that's reduced to 1080p stream with stereo sound.
You can always buy new games. While you can no longer stream games for free, you can continue to purchase new games through Google Stadia. You won't get a Stadia Pro discount, however.