Currently we can all have our space on the Internet, whether you want to write or create videos, we have many tools and services to achieve this. In this article we go more to the writing side and we will see as to create a Blog at WordPress to start Blog.
There are two types of WordPress; the first is WordPress.com where we will be able to create our blog through certain forms and in five minutes we will be able to start publishing; the second is WordPress.org, here we need more knowledge because you need to have good hosting, upload files and perform a script installation.
In this article, we'll focus on WordPress.com. However, leaving aside the installation of the prefab, once it is installed, they work exactly. Therefore, this guide will be very helpful in both cases.
Create a blog in WordPress
Therefore, we start by entering the WordPress site and registering like any other service, providing our email address, username and password.
At the top, we'll need to specify the name your blog will have and search for available domain names (people will access the blog through the domain name).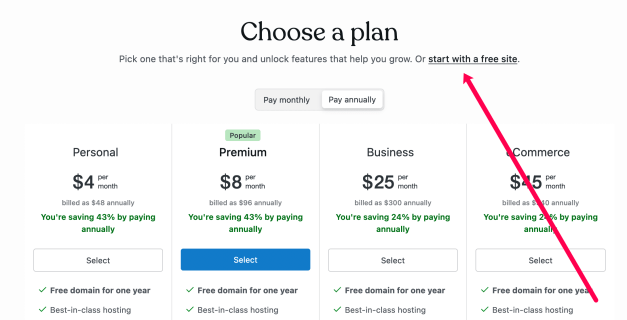 Then we can choose which plane we are going to use. We have the ability to use WordPress without having to pay a single penny. As we begin, we will choose "Start with a free website"At the top of the screen. Likewise, it is possible to update the plan later.
In the next screen we will see several tasks that we need to accomplish, this will guide us to do it. Then we can click on "Start your site".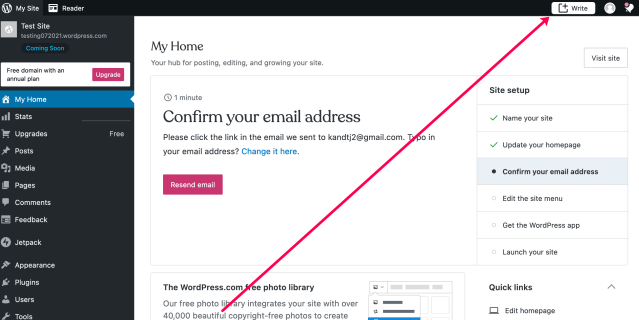 Once we're done, we can start setting up our blog for everyone to have access to. To get started, we're going to go straight to "Write" which is located in the upper right corner.
How to create an article on my WordPress blog
Let's start with the most important: write an article, create a post.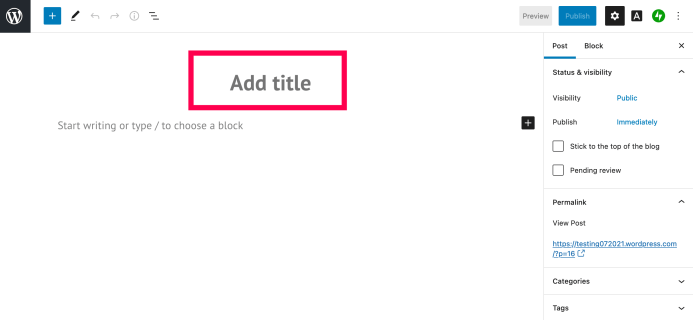 The first thing we are going to do is click on "Add Title" to be able to add the title of the article we are going to write below. It's the first thing a reader will read, so it should be catchy and descriptive.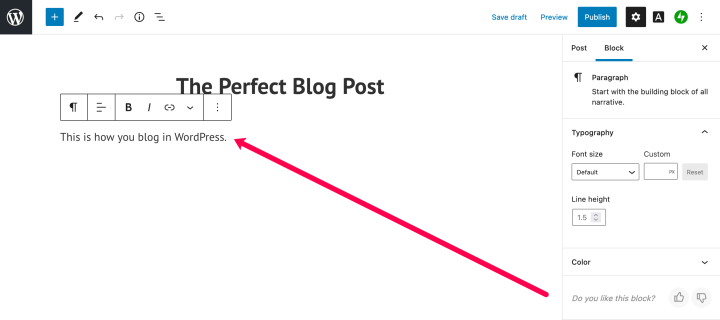 Then we will need to click on "Start writing" and write in the body of the blog post.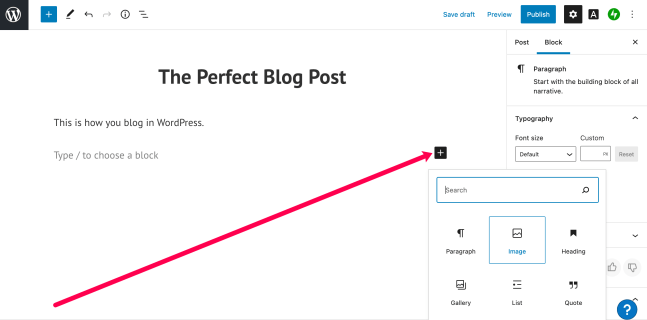 To move on to the next paragraph, we'll need to press "Enter", in a manner quite similar to Word. Although several aspects change a lot. For example, if we click on the "+" symbol to the right of each block, we can choose what we want to add (header, frequently asked questions, an image, a video, etc.)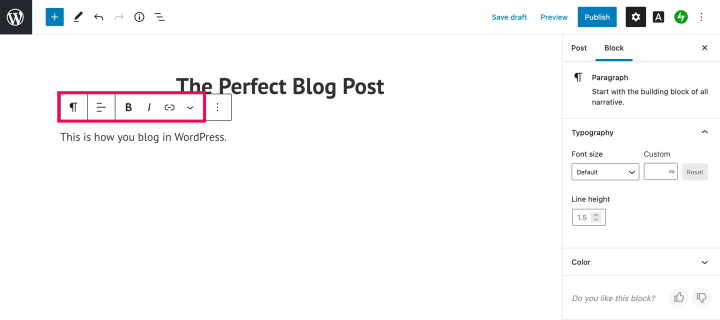 When we click on a block, simpler options appear as well, such as text alignment, text bolding, italics, link, etc.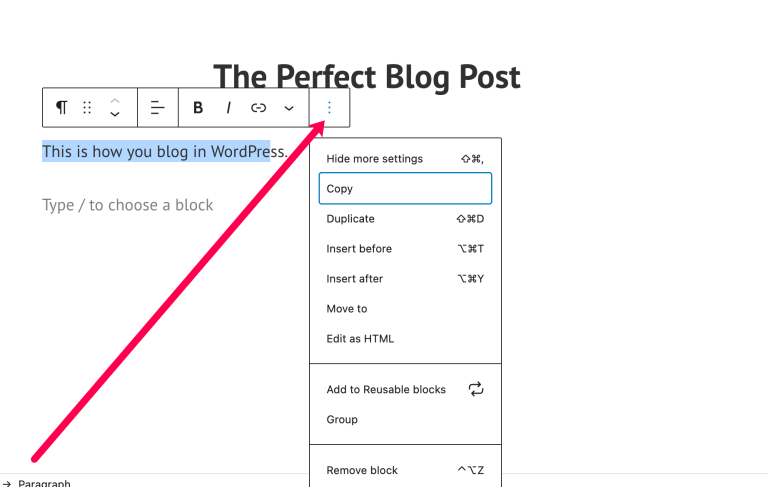 If we click on the drop-down arrow that points down in the box, we will be able to strike out the text, change the font color, add an image, etc.
In this sense, it is important that you start experimenting in order to get the most out of the WordPress editor. The best would be to write an article in Word then paste it into the blog editor, you can format it, add hyperlinks, images, etc.
How to post and start blogging
Once the article is ready, it's time to publish it. For that, we will click on the blue button that says "Publish". Although we also have the option to check the date and time, as we can schedule a post to be published in a few hours, tomorrow or next month.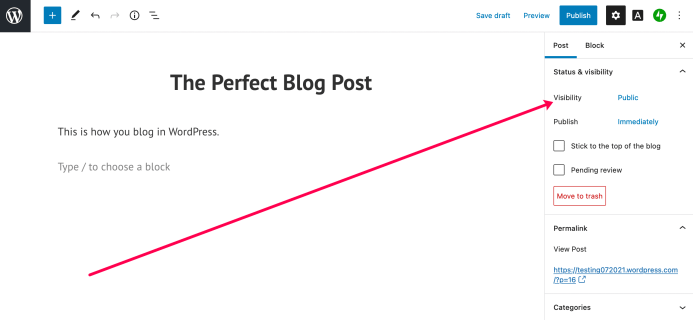 In the visibility option we can configure it to be public, private or password protected. If we choose public, it will be a completely normal post; private is only for those who have the connection; password protected, only people with the password will be able to access the publication.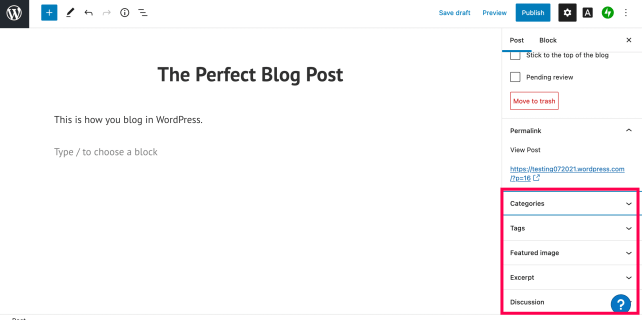 We will need to add tags, categories and a featured image. This featured image is what the reader will see above the post and before entering it (as you can see at the top of this article).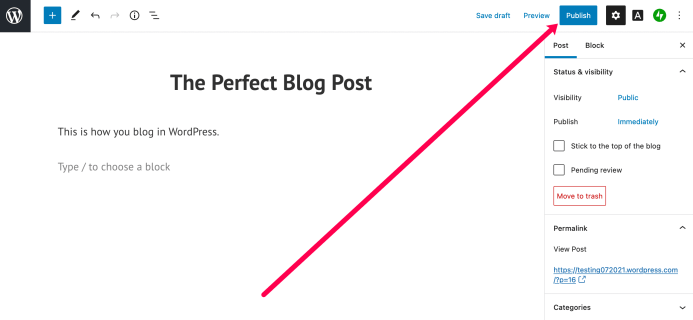 Once we're ready, we'll just have to click publish and that's it.
Everything about WordPress, know our site
We already know how to post on our blog. But the rest of the options? There is a lot of options on your blog that you will have to get to know little by little to personalize it as much as possible and get the most out of it.
WordPress dashboard
Once logged in, we'll be taken to the WordPress dashboard. From this section we will have access to all sections of our blog and this is where we can configure everything.
In the left sidebar we are going to see a lot of options, maybe now it seems a mess and too complicated. But don't worry, it's a lot easier than you might think, especially since we'll explain it to you in detail below.
Publications
The publications section where we will write our blog articles. If we hover the mouse over "Publications", a sub-menu will appear where we can add new ones, categories and tags. If we want create a new article, we hover the mouse over this section and choose "Add New".
When we do, we'll be taken to the WordPress editor and can start creating our post as we discussed a bit above.
Means of communication
In media, we can upload multimedia content to our blog, like pictures or videos. Usually, we won't use this option much unless we need to delete an image or edit it. Most of the time, we'll add them through the WordPress editor when the post is published.
From there we can manage all the comments of all the entries we have created. It is ideal for being able to interact with our readers, to be able to retain them and improve our blog in general.
Appearance
From this section we will be able to change the theme of our blog, basically we can choose between several models to change the design. We can even add custom widgets and menus.
Add-ons or plugins
Add-ons work much like Firefox extensions, for example, to give you a little idea. We can add new functions to WordPress, there are thousands of plugins for anything you can think of.
We can add extensions or Plugins to add buttons to share on social networks, contact forms, etc. There are a lot of them, but just because there are so many of them doesn't mean we have to install them all. It is important that you only install the ones that will be really useful for your blog.
Users
Here we will see all the users of the blog, at first it will be just us. However, we can add more users to post on our blog.
Tools
Tools is not a section that we're going to use too much, we can convert categories and labels, among other things.
Settings
We can have a good time here, at least at first. Because we can configure everything on our website: the title, the slogan, change the URLs, etc. We will also have our email address which is where admin notifications will arrive. We can configure the time and date, the start of the week, the language, etc.
Share this with your friends!