We all receive unwanted emails. These could be advertising messages sent by companies or messages from malicious individuals. Fortunately, if you use Gmail, it is possible to block a specific email address. A suitable solution to avoid being disturbed. We tell you what to do in this guide.
When you have an email address, it is very common to be overwhelmed by tons of spam messages. Which do not necessarily automatically slip into the spam folder. Which can be very annoying quickly. People using Gmail are also not spared. And this even if Google is constantly improving its algorithms to filter the emails that users receive.
If you want to clean up, it is possible to block a specific email address, or several if more than one bothering you. A very practical feature. Especially since it does not only protect against advertising messages. Indeed, harassment is more and more widespread on the Internet. On your personal mailbox, you can thus be assailed by messages of insults and threats from a malicious individual. Who, to harm you, will not hesitate to overwhelm you with emails.
In this guide, we explain how to block an email address on Gmail. And you will see, it is child's play.
Read also >> Gmail: how to automatically forward emails to another address
Gmail: how to block a person
The process is as easy as two clicks with the mouse. But let's be clear that blocking someone in Gmail won't prevent them from sending you messages. Concretely, these will slip into the spam folder once the blocking is effective. A solution that is still good to take insofar as it allows you to clean up priority emails.
To block an address on Gmail (the process is the same on the web version and on the mobile application):
Open an email from the person or company you want to block.
Click on the three dots on the far right on the sender's name line.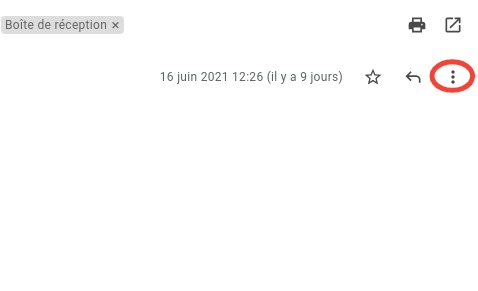 Then select the option "Block [nom du contact] From the drop-down menu and you're good to go.
For websites and other businesses that regularly send newsletters, the easiest way is obviously to unsubscribe. Except that such an action could have no effect, the unsubscribe link being only decorative in some companies. Therefore, blocking the sender's address seems to be the most effective solution. In this regard, you can also consult our article which explains how to get rid of SMS or email spam for good.
Gmail: how to unblock an email address
If you ultimately decide to unblock an address, here's what to do:
Click on the cogwheel to the right of the interface then on See all settings.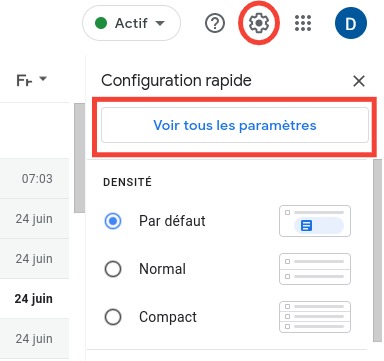 In the Filters and blocked addresses tab, select the addresses you want to restore and then click on Unblock the selected addresses.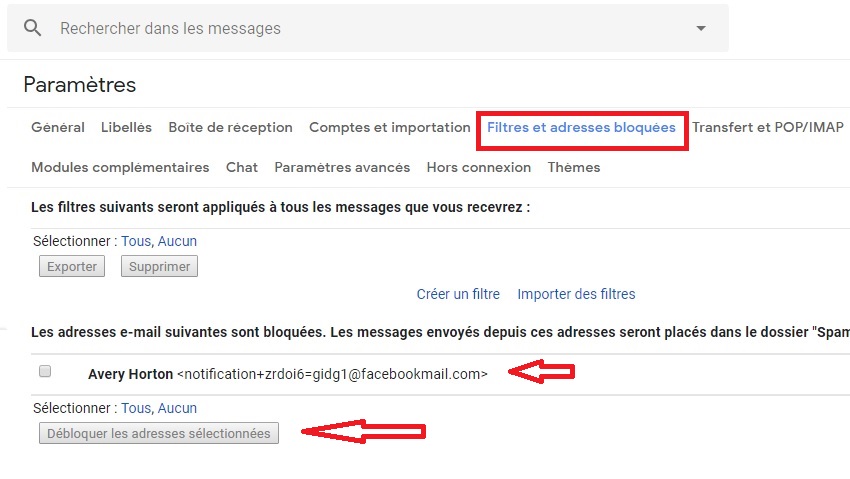 On a smartphone, the procedure is even simpler:
Go to an old message from the contact you want to unblock.
Then click on the three dots located at the top right and select the Unblock option.
Gmail: how to block all emails with the same domain name
You can completely block several email addresses with the same domain name. Here's how to do it:
Go to the settings and to the Filters and blocked addresses section as explained above.
Then choose the Create a filter option.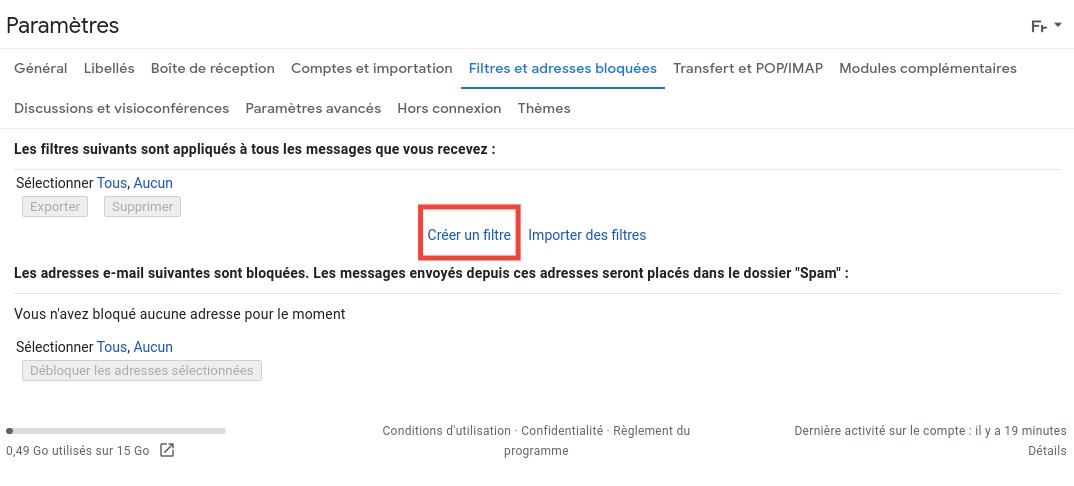 Then write the domain name you want to block in the "From" section. Then tap Create filter.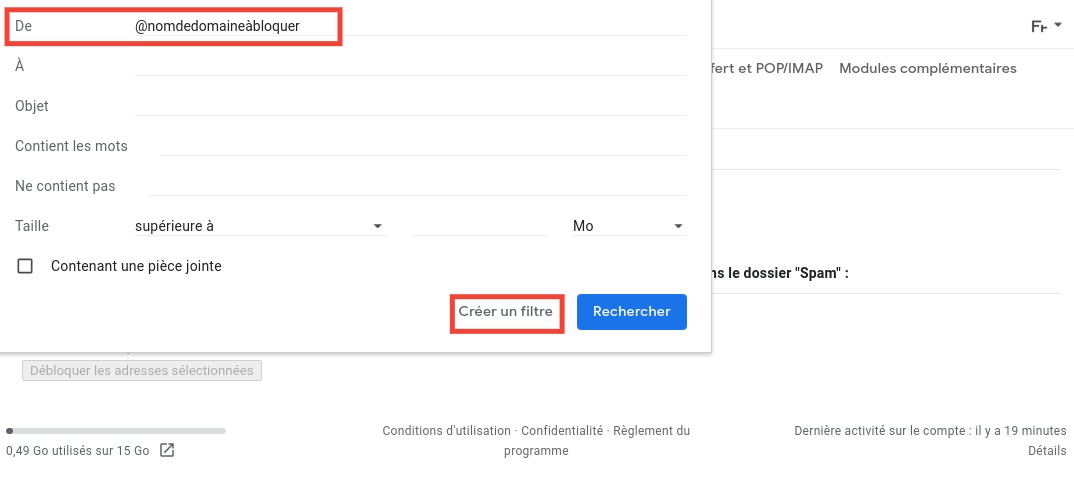 All you have to do is click on the Delete box and then on Create a filter.