Signal works differently from WhatsApp or Telegram when it comes to saving conversations. The objective of this application is completely local. So when we go to backup and restore Signal chats, everything is stored on our device.
It is not at all complicated to make a backup of all our cats. Signal encrypts the backup with a password for security reasons. Even if someone picks up our phone, they will not have access to this copy unless they have the password.
The first thing we'll do is open the app and go to Settings> Chat & Media> Backups> Chat Backups.
Now what we are going to do is press the button that says "Activate" and we will have to choose a folder where we are going to store the backup.
In the same window where we will be able to see the name of the folder and we will have to save the password that appears on the screen.
Next, we will check the box and click on "Enable backups".
If we want to create a backup at that point, we will just have to click on "Create backup" and that's it.
It is important that you write down the password in a safe place where only you can enter it.
This option only appears when we reinstall the app. So if you want to restore all Signal chats, you will have to delete the app and download it again.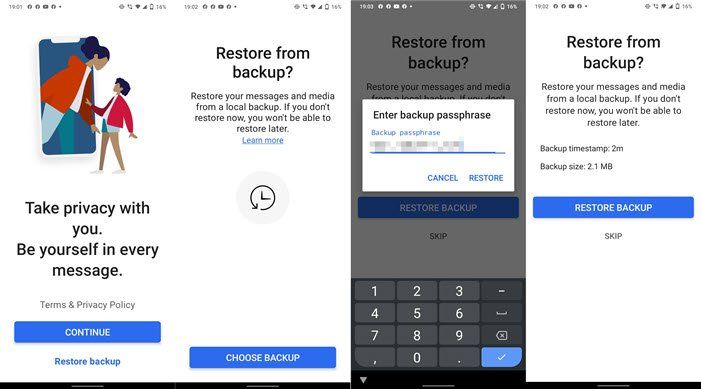 We will click on the option "Restore backup" that appears at the bottom of the screen, after opening the application.
Now we will have to find the folder where the backup was saved.
We enter the password and wait for the process to complete.
When finished, it will ask us if we want to restore the backup. We're just going to have to click on "Restore Backup" and that's it.
Since Signal's backups are local, unlike other apps like WhatsApp. Many people have doubts on how to restore backup of Signal conversations to new phone.
It is not at all complicated. The only thing we're going to have to do is upload the folder we're doing the cloud backup to. It can be any cloud storage service. Then we download it to our new mobile phone and the process of restoring chats is exactly the same as we discussed above.
Share this with your friends!