Playing with friends is great fun. Sometimes we just want to turn on the console and enjoy some undisturbed gaming time. For this we will need to configure our profile to appear offline on Nintendo Switch.
And we can't deny it, Switch has the best games and they're a lot of fun. But when we come home after a long day and prepare to disconnect a bit from the real world, we often don't want to be disturbed.
To avoid any kind of problem, we configure to appear offline on Nintendo Switch and voila, we enjoy our moment disconnected from the real world and totally immersed in our beloved video game.
Appear offline on Nintendo Switch
The first thing we are going to have to do is go to the home screen, to do this press the "Start" button on your remote. Next, we will need to select the user profile icon which is in the upper left corner of the screen.
A new screen opens where we can see our full profile. We will have to go to the left sidebar and at the bottom we will find the option "User configuration".
In this section we are going to have to go down until we find "Friends settings".
Here we will need to select "Show online status in".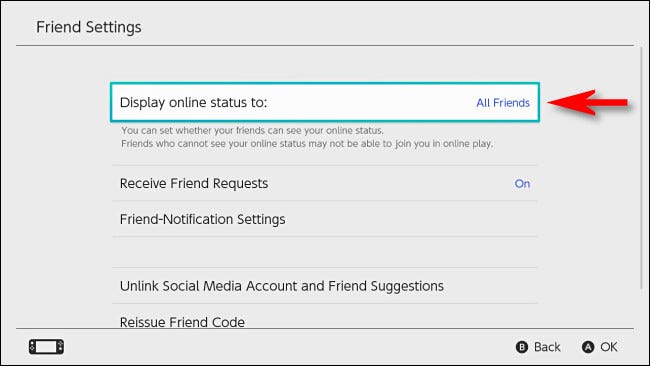 When we click on this option, a window will appear in which we can select who we want to see us online. We can choose: all my friends, best friends, or no one. As we want to play without appearing connected, we select "Person".
You don't need to restart the console or anything, just log out of your profile and start using the console as usual. From that point on, no one will see you online.
Obviously, if you want to appear online again, go back to the process we talked about above, but instead of choosing "Nobody", you will have to select "All my friends".
You can have your offline status, but your gaming activity will still be recorded. It is something that we can hide in a simple way.
We're just going to have to go to our profile page and then go to User Settings> Game Activity Settings.
We will have to do pretty much the same as we did to hide our status, we just click on "Show game activity in" and a window will appear where we can select "Nobody".
In this simple way, we can prevent our friends from seeing not only that we are playing or online. Otherwise, they also will not be able to see our activity in any game, we can play in secret without being disturbed by anyone.
Share this with your friends!