The RCS protocol is now well established in France. This new protocol makes it possible to offer Android users a real equivalent to iMessage. Here's how to activate it in the Messages app.
The RCS protocol allows you to send and receive more complete messages than traditional SMS, with multimedia support, including images, videos, GIFs, audio messages and video calls. In addition, you can share your location, start group conversations, have read receipts and know when the other person is writing. In short, like on a classic messaging application like WhatsApp and Facebook Messenger.
Developed by the GSMA consortium, this universal protocol brings together operators and technology companies from around the world. It is therefore a non-proprietary standard. Unlike WhatsApp or Facebook Messenger which are closed applications, the RCS protocol allows messages to be sent to any compatible application. It is besides the case of Android Message. If you want to know more, we explain it all to you in our file on the RCS.
How do I activate RCS on Android Messages?
To activate the Chat (RCS) feature on Android Messages, here's how:
Install or update Android Messages from the Play Store if it is not done yet.
Open the app.
The feature may be enabled by default by your carrier and device. Or that Google offers you to benefit from it.
To be sure, try to see if RCS is available in settings.
To do this, tap the three vertical dots in the upper right corner of Android Messages and then tap Settings.
Identify the section Chat features and press it.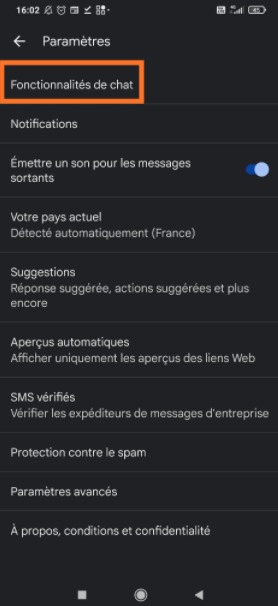 Just flip the switch to the right to activate the chat features.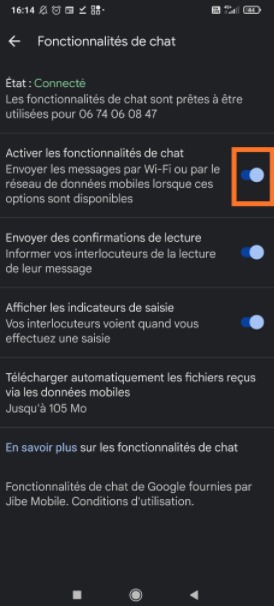 Now you can send and receive "SMS" which work more like messages from instant messaging apps, with videos, GIFs, Audio, Emoji, etc. If the person you are talking to does not have the functionality or has not activated it, they will only receive messages in a standard form.
Read also >> Android Messages for the web: how to send SMS from PC