Don't you love the 21st century? The days of second cell phones, business phone lines and expensive tariff plans for international travel are over. Now, if you want more than one mobile number and the phone is fairly new, all you have to do is purchase and activate an eSIM. An eSIM gives you another phone number without the hassle of a physical SIM card. There are lots of pros and cons to an eSIM, but one huge advantage is the ease of setup. Here's how to set up and activate an eSIM on your iPhone.
QUICK RESPONSE
To set up an eSIM on your iPhone, go to Settings > Cellular and press Add an eSIM. From there, you may be prompted to scan a QR code provided to you by your carrier or transfer an existing eSIM from your current device. If you have an old iPhone, you can convert your physical SIM card to eSIM.
How to set up and activate an eSIM on your iPhone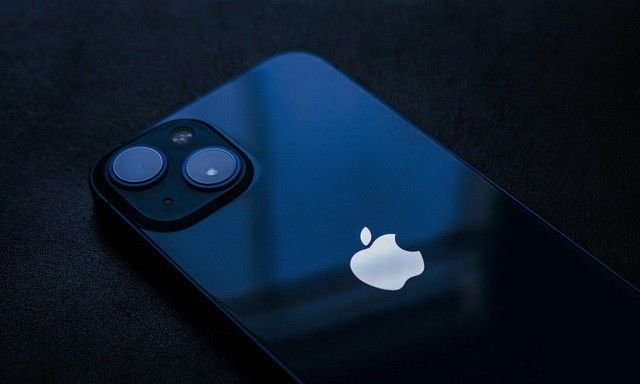 Depending on which iPhone you own and where you purchased it, setting up an eSIM can be as simple as turning on your device and following the onscreen prompts. If you bought your phone directly from your carrier, you should be able to navigate smoothly. However, we will also cover some steps you may need to follow if you purchased your new iPhone unlocked.
Activation of the eSIM operator
As mentioned, if you bought your iPhone through your mobile carrier, you might not have much to do. Major US carriers like Verizon, T-Mobile, and AT&T support what Apple calls Carrier Activation, so your eSIM can be preloaded on your phone. If so, here's all you need to do:
Swipe up on the Home screen to start setting up your iPhone.
Select the Wi-Fi network of your choice and enter your password.
Wait for the cellular setup screen to appear, at which point the iPhone will activate your eSIM.
Tap Continue once you see Cellular setup complete.
Activate QR code
Conversely, if you're switching to an iPhone from an Android phone, you may need to get a bit more involved with your carrier. If you don't automatically see the cellular setup screen as shown above, you may need to contact your carrier directly. They will then activate your eSIM or provide you with a QR code to scan. If you receive a QR code, here's how you should use it:
Swipe up on the Home screen to start setting up your iPhone.
Choose your Wi-Fi network and connect using your password.
On the Set Up Cellular screen, select Use QR Code.
Point your iPhone camera at the QR code provided by your carrier.
Wait for your eSIM to activate, then tap Continue when you see the Cellular setup complete message.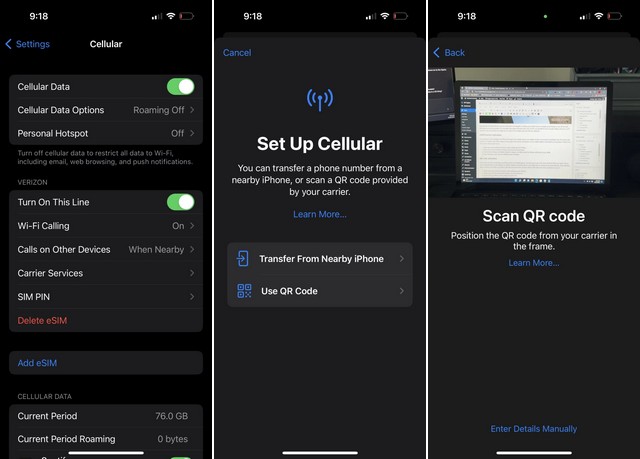 How to convert your SIM card to eSIM on an iPhone
Depending on your carrier and device, you may be able to convert a physical SIM card to an eSIM in just a few minutes. This is especially useful if you're upgrading from an older iPhone to a newer one, as it avoids the need for a QR code. Unfortunately, not all carriers support this option, but it makes your life easier if you're on a compatible network. It also won't work on a US-based iPhone 14 due to the lack of a SIM slot. Here's what to do:
Open the Settings menu and head to Cellular.
Tap Convert to eSIM. If you don't see this as an option, your carrier doesn't support the feature.
If you see Convert to eSIM, select Convert Cellular Plan.
Tap Convert to eSIM (again).
Once your eSIM is activated, remove your physical SIM card and restart your iPhone.
How to transfer your eSIM to a new iPhone eSIM
The final option for setting up an eSIM on your shiny new iPhone is to move it from a previous iPhone. It might not be that common, as the eSIM push hasn't been around for very long, but it's a way to make the switch without involving your carrier. You should be able to remove this during the setup process, but make sure both of your devices are running iOS 16. Once you've done that, follow these steps:
Go to Settings, tap Cellular and choose Add Cellular Plan. This will prompt you to set up an eSIM.
Select Transfer from Another iPhone, which should display your existing phone number.
Follow your old iPhone's instructions to confirm the transfer — usually a little more than entering a verification code.
Wait for the cellular plan to activate on your new iPhone and deactivate your old SIM card.
Log in to your carrier's webpage to complete your eSIM transfer.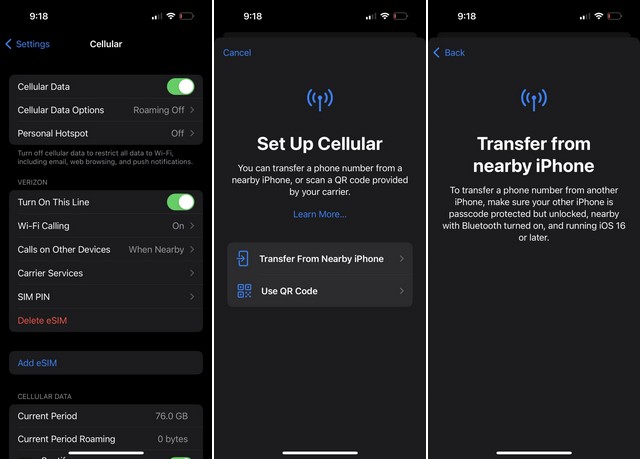 ---
FAQs
Which iPhones support eSIM?
Apple introduced eSIM on the iPhone XS, XS Max, and XR, and all new iPhones support it as long as they have iOS 12.1 or later.
Does iPhone 14 have dual eSIM?
Yes, in fact the iPhone 14 can support up to eight eSIM downloads at a time.
Why is eSIM less popular?
Additional costs and limited carrier compatibility mean that although many see eSIM as the future, brands still need to take steps before adopting it.
Can I use a physical SIM and an eSIM at the same time?
If your phone supports dual SIM with a physical SIM tray, then yes. However, the iPhone 14 does not have a US SIM tray and therefore can only support multiple eSIM downloads.
In this guide, you learned how to set up and activate an eSIM on your iPhone. If you have any questions or suggestions, let us know in the comments. Also check out this guide if you want to learn how to use an iPhone without a SIM card.