So if you are one of those interested in 3D printing like me, let me tell you that the Autodesk Meshmixer will surely be the best thing you can have. After all, it's one of the best ways to get rid of all the creativity in your mind.
So if you are looking to clean up a 3D scan, or if you are looking for any kind of 3D printing, or if you are also looking to design an object that just fits something else. Well, Meshmixer is the best thing for you to do all of the things specified above. Well, the Meshmixer works like a kind of Swiss army knife for 3D meshes. Without a doubt, this is one of the most amazing things you can use for 3D printing.
Note: I think there are many other 3D printing software available on the web, Autodesk Meshmixer is the best of them. Plus, it's a free source to download.
From now on you know about Autodesk Meshmixer, let's go deeper and see how we could get started with Autodesk Meshmixer for 3D printing. Meshmixer is state-of-the-art software for creating triangular meshes. Well, I would also like to share with you some of the basic Meshmixer facts that no one will ever think of sharing with you. So, let's take a look.
Autodesk Meshmixer overview
About Autodesk Meshmixer:
Name: Autodesk Meshmixer
Size: 101MB
Last updated: 22/10/2019
License: Free Source software
Developer: AutoDesk
Home page: https://www.autodesk.com/
Compatibility: Windows and Mac OS X
The latest version: 3.5.474
Basics of Autodesk Meshmixer
Download: You can download it from Autodesk official website
Price: Well it's free to use
All you need: A mouse with a click wheel is required
Supported format: The supported format includes OBJ, STL, DAE and PLY, AMF and WRL.
Autodesk Meshmixer Tools:
The drag and drop mesh blending tool is available where you can just drag and drop anything.
A robust convert to solid tool for 3D printing will help you convert a solid 3D printing prototype.
You can make hollows (with drain holes!)
Automatic optimization, layout and packaging of print bed orientation is also available
Re-meshing and mesh simplification / reduction
Hole filling, bridging, boundary zipper and auto repair
Extrusions, offset surfaces, and project-to-target surface
Mesh smoothing and free-form deformations
Advanced selection tools, including brushing, surface lasso, and constraints
Inner tubes and channels
Branching support structures for 3D printing
Precise 3D positioning with pivots
3D patterns and lattices
Plane, mirroring, and Boolean sections
Automatic surface alignment
Make 3D measurements with this software
Also do 3D sculpting and surface stamping
You can also have the possibility to do a stability and thickness analysis
Steps to get started with Autodesk Meshmixer 3D printing
>> Step 1) So the very first thing to do is to import a model and a basic control. Without a doubt, this is the best place to start, and let me tell you that in the Meshmixer a range of 3D files could also be loaded into the Mashmixer which also includes STL, AMF, PLY and OBJ. And in there, importing a model is pretty straightforward, you just need to open the Meshmixer, click on the import option and select the file you need to load.
>> Step 2) Now you need to transform your model. As soon as you load your 3D model, the next step is to manipulate the model, so that you can have the option to continue working on it and prepare for your 3D printing. Or if there is some minimal editing type left, you can just rotate it to optimize it for 3D printing, then you can just export it.
>> Step 3) The next step is to scale your model. Well, resizing and then scaling your model is one of the most important factors to watch out for. And if not, you should at least confirm the size of your model before printing it on the 3D printer.
>> Step 4) Well in the next step you need to reduce the file size. The ability to reduce the file size of your 3D model is one of the most important factors. And if your model is a high quality scan it could be over 100MB. Well let me tell you that a 3D file is usually made up of triangles arranged in series. The higher the number of the triangle, the more detail there will be in your model. And the larger the file size will be. So you need to focus on reducing the file size of your model.
There are also a few more steps, but the ones I specified above are the most important. And with these steps above, you can easily submit your order to Autodesk Meshmixer.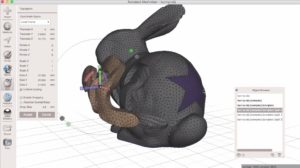 Autodesk Meshmixer final 3D visual
Now, let's go further and take a look at the main features of Autodesk Meshmixer. So, here is the full list of features of it.
Characteristics of Meshmixer
1. Meshmixer Archive
Well, Autodesk Meshmixer comes with an archive, and that archive comes with several galleries full of parts. And these will surely come in handy for you, because with these parts you don't always have to start sculpting from scratch.
2. Auto repair functions
Well, this is one of the most amazing features that automatically fixes the mesh fault. And not only repair, but it also tells you where the faults are. Without a doubt, this is one of the most amazing and very useful features for sure.
3. The analysis button
Well, this is the button that allows you to analyze the parts of your model that are the most fragile. It also determines whether your design can support it or not. So here are some of the features that contribute to the most amazing functioning of Autodesk Meshmixer.
Change log:
Recently they changed the 123D suite and the Netfabb tools.
The Customer Error Reporting (CER) functionality is enhanced and allows you to file direct complaints with the AutoDesk Meshmixer team in the event of a software failure.
Recently they added a hotkey to toggle printer bed rendering in Meshmixer as well.
I think they recently added a really long list of 3D printers.
3D printers that also include hobbyists and prosumers, such as those from Dremel, Ultimaker, Tinkerine, Flashforge, MakerBot, Formlabs, Printrbot, Lulzbot, MakerGear, SeeMeCNC, Up, and Zortrax.
The new version of Autodesk Meshmixer also includes industrial 3D printers such as those from MarkForged, Arcam, MCOR, ExOne, EOS, Concept Laser, Renishaw and Stratasys.
Meshmixer alternatives
Inkspace:
It is one of the open source alternatives of Meshmixer. This has the ability to edit a video or movie with all the features available in the Meshmixer. It helps user to add best version of graphics and frames as well as latest stickers. This application is applicable for Windows, MacOS, Linux and ext. that it supports all the devices mentioned above. That is why it is declared as the best alternative to Meshmixer.
Sketchup:
It is defined as the application which will allow the user to add the 3D modeling programs which will be very useful for the user to edit and add all the latest versions of the features and so on. There are 2 versions available in this sketchup app which is paid version for premium and also normal features for free. This is one of the best alternatives to the Meshmixer.
3D wings
Wings 3D is the most powerful app that requires deep knowledge of this edition and adding the professional features available in this app, so it is also the most advanced app that will allow the user to add the best version of graphics which will allow you to edit videos.
These are the most basic alternatives to the Meshmixer. If Meshmixer is not working or cannot be installed on certain devices, these are the best alternatives that will help you meet Meshmixer's needs.
Frequently Asked Questions:
Question 1) Do I have to pay to download the premium version of AutoDesk Meshmixer?
Answer: There is no premium version, there is only one version which is also free.
Question 2) Can I create prototypes using AutoDesk Meshmixer for my projects?
Answer: Yes, you can make a model on software and do 3D printing for prototypes.
Question 3) How much RAM do I need on my PC / Laptop?
Answer: You must have at least 4 GB of RAM on your Windows or Mac devices to use this software.
Conclusion:
There you go, my friends, I think these steps can help you create 3D prototypes for your projects. What are you waiting for to create your own CD printing prototypes where you don't need to spend a dime. If this article is beneficial to you, please share this article with your friends and family. In my option, AutoDesk MeshMixef is the best 3D design software compared to other software available on the web.
This article mainly concludes "How to get Autodesk Meshmixer download"&"How to create 3D models with Autodesk Meshmixer»On Windows 10, 8.1, 8, 7 or Mac OS X. If you have any errors or problems while using this software, please let me know. I will try my best to give you a better solution for your query.