Spotify music streaming service now lets you view the lyrics of your favorite songs in real time. Ideal for perfecting your vocal technique at a lower cost. And then with this device you will be able to sing the greatest titles of the international repertoire without even knowing the lyrics.
Enable display of lyrics on the Spotify app
Spotify is one of the leaders in music streaming. However, it must be recognized that the Swedish giant suffers from some shortcomings, especially with regard to the display of words in real time. Competitors like Deezer or Apple Music have already been offering this type of functionality for several months.
Spotify had to catch up. It is now done. The Swedish firm is launching a new display service for synchronized lyrics in real time (karaoke). The deployment of this new functionality will be done in several phases with the help of Genius, an American site specializing in the decryption of song lyrics.
The service may therefore not yet be available on your smartphone or tablet. Another problem, this option remains for the moment limited to a few titles exclusively in English. By browsing your playlists you will notice that not all the songs in the Spotify catalog benefit from them. This limitation also applies to imported MP3 files.
Launch the Spotify app
Select a song from one of your playlists
You can also search using Spotify's search engine
Start playing your song
On a smartphone, click on the bar during playback
On a tablet, place your finger on the album cover in the lower left corner of the screen
Scroll down the window to bring up the lyrics display
If the plug-in is not displayed under the cover of the song being played, it simply means that this feature is not available with this song. Try to test with another song.
The function is very easy to use. Too bad it is so limited (at the time of this writing) especially as it is particularly useful when you like to sing at home. It is also a very effective tool for training and becoming a very good karaoke singer. For those who are interested, here is a method to turn your smartphone into a PC microphone.
Find a song by typing its lyrics
At Spotify, they know the song. This is why it is now possible to find a song by simply entering the lyrics of this song in the search bar. This tool should definitely appeal to music lovers.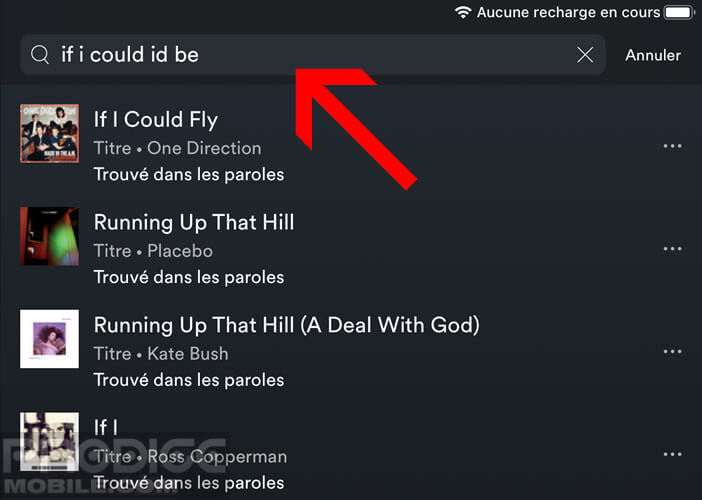 We sometimes hear very beautiful music. Unfortunately taken by time, we forget the essential, namely to take his phone and launch Shazam to find out the name of the song.
If you've managed to memorize a few words of the song's lyrics, nothing is lost. You can find the title of the song just by typing the chorus (for example).