As you already know, a lot of services are integrated by default and natively in Microsoft's Windows 10 and it has been since 2015. And among the functionalities merged in this system, we can mention the intelligent and personal assistant of Microsoft, Cortana and the firm's search engine, Bing Search.
This kind of integration can slow down system usage instead of speeding it up as more resources are used to run these tools, resources like PC RAM access, network and internet connection. And it can impact or even cause problems using your system, just check out these few articles to understand what I'm talking about:
– Cortana and Chrome crash Windows 10 version 1803 PCs
– Windows 10: Cortana assistant no longer working? Here is the solution
– Windows 10 search bar bug and Microsoft reacts
– How to remove unwanted apps from Windows 10 (even if Microsoft doesn't want it)
Microsoft has already kicked Cortana out of its systems, that is, it is no longer integrated natively or into the search box on Windows 10, but still comes in the form of a separate button that one can easily do away with.
So among the big changes in Windows 10 2004 was the disintegration of this smart assistant.
Turn off Bing Search's built-in search in Windows 10
But concerning the search engine Bing Search, it is always integrated and when you do a search in the search bar of Windows 10, the latter searches locally in all the folders of your system, in the partitions and hard drives and also on the web to provide you with results. directly without the need to go to a search engine site or use a web browser for this.
A useful feature for some of you to save a little time during a search, but many are those who want to transfer this integration of the search engine into their operating systems to gain in performance or simply because 'they are not too Bing and rather prefer to search on Google.
We have already explained a method similar to today's in an old article to disable Bing's built-in search in Windows 10 and we will resume part of it to explain how.
1. Use the keyboard shortcut Windows Key + R to launch the Run dialog box then type " regedit In the box field and press OK to launch the registry editor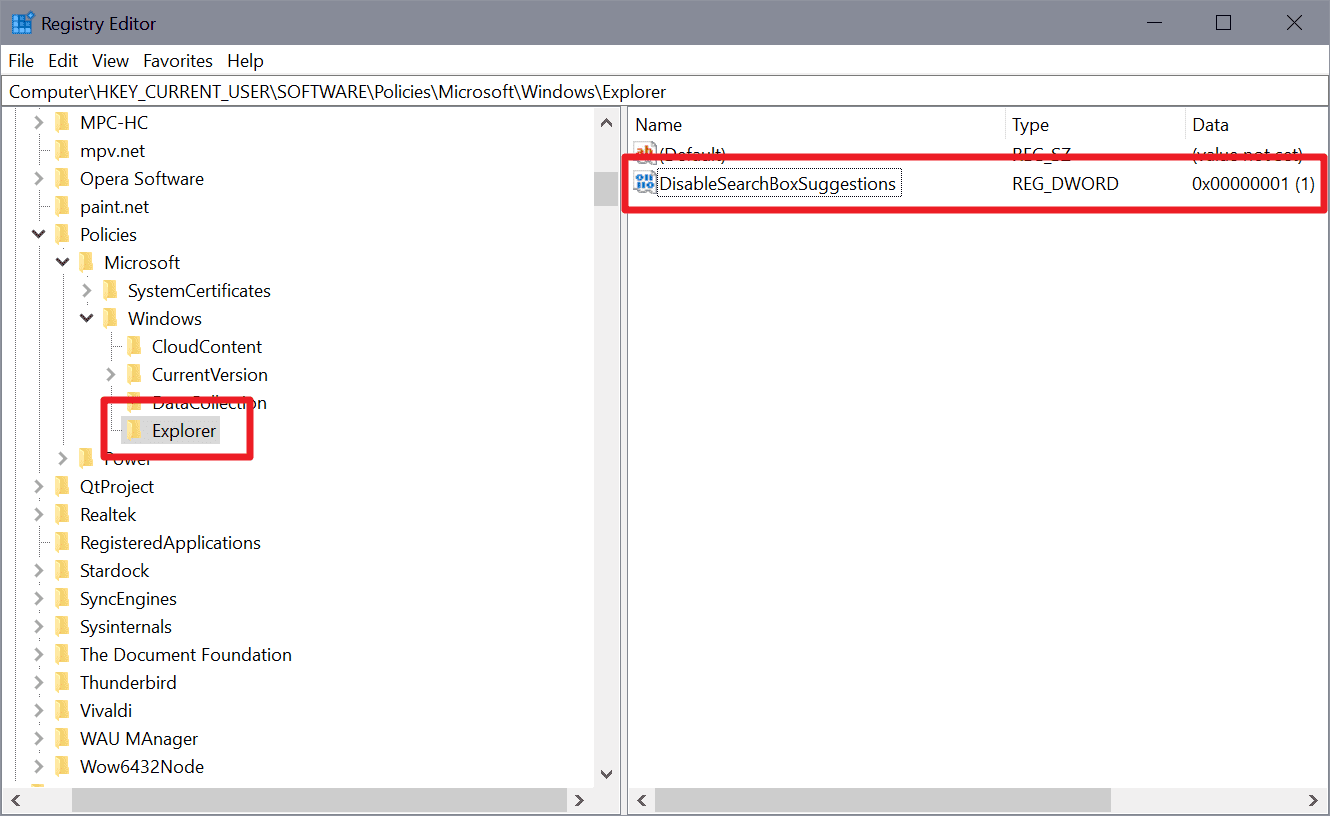 2. Navigate to the directory: Computer HKEY_CURRENT_USER SOFTWARE Policies Microsoft Windows
3. Look for the key " To explore If you don't see it, create a new 32-bit DWORD key and give it the name Explorer.
4. Right-click now on the Explorer key then select New> Dword value (32 bits)
5. Enter the name DisableSearchBoxSuggestions as a new value.
6. Now double-click on DisableSearchBoxSuggestions and set the value of this key to 1.
7. Log out of your user session then restart your Windows and you will no longer see Bing Search in your Windows 10. You will also only have local search results.