DataProtect Free: Encrypting or protecting your files with a password is the most effective way to avoid any temptation to steal data and gain access to sensitive documents and their contents.
DataProtect Free for Windows, today's software and as the name suggests is a free program and very interesting if you are looking for a solution for password protect your files with easy configuration and use thanks to its interface.
The application interface consists of four panes (4 large buttons) with the following options and functionalities: Encrypt data (Encrypt Data), Passwords (Passwords), Secure Delete (Secure Delete), and finally Configuration. But before all that, and when starting DataProtect Free, it displays a window asking you to create a password for the application in order to prevent unauthorized use and for more security, it is of course an optional but highly recommended option.
Configuring DataProtect Free
The first thing to do after launching the program is to define and configure a password for the encryption and protection process, to do this click on Configuration or on the icon just next to the floppy disk icon, set a password for the encryption and then save your settings.
The software uses a private key for its data encryption and decryption process, this key is in the form of a file which has a .key extension and which you must save and keep in an isolated location.
So to encrypt multiple files, use the icon folder to navigate to the folder (s) where the files are located, select them to add them to the list then and finally click on the locked padlock to start the encryption process.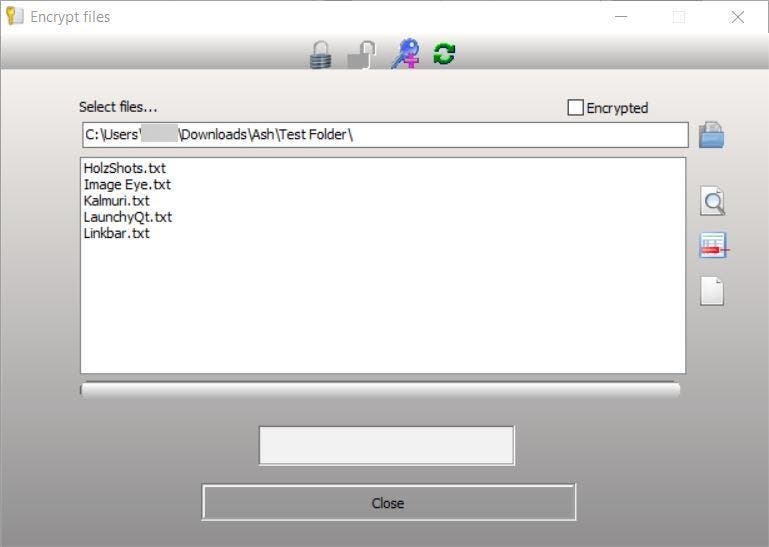 Once it is done, the encrypted files will be stored in ECF format and to decrypt them just add them to the list and do the reverse i.e. click on the unlocked padlock.
DataProtect Free also integrates a password manager based on PassFinder, this option allows you to save all your existing passwords in a safe place.
And finally, the program also offers you an option (Secure deletion (Secure Delete)) to erase your files once and for all and without the possibility of recovering them with third-party software.
The link to download the software for free: Download page