Advertising texts, messages inviting you to dial a chargeable telephone number, you have certainly already received spam by SMS. Fortunately, the Android Messages app has built-in spam protection. Here is the procedure to be followed to effectively fight against unsolicited SMS.
End mobile spam
SMS spam has been a nuisance for several years. They promise you astronomical gains, discounts on luxury goods or solve your financial problems. Most of the time, these Unsolicited SMS are sent from mobile phone numbers starting with 06 or 07 (+336 or +337 with the international code). Worse, some crooks happen to pass themselves off as public services or well-known brands.
Never try to reply to spammers even to ask them to stop sending. It will have the opposite effect. They will continue to flood you with their unsolicited messages. Not to mention fake SMS that aim to steal your bank details or messages that contain links pointing to potentially dangerous malicious apps.
Rest assured there are solutions to reduce the number of advertising SMS that you receive on your Android smartphone. These devices will prevent spammers from accessing your email inbox. And then you will no longer risk being distracted by an unsolicited notification.
Block SMS from Android Messages
Fraudulent text messages are generally more difficult to spot than spam or phishing. Pay attention to the spelling. Fraudsters usually just translate their messages with online tools like Google Translate. Spelling mistakes, bad syntax, misinterpretations, the list of errors likely to put you on the alert is long.
If you are tired of receiving this type of message, why not manually block the number. There are different ways to do this on Android Messages. The easiest way is to block the SMS directly from the discussion thread.
Launch the Android Messages app. This SMS client is installed by default on most Android smartphones. However, nothing prevents you from installing it directly from the Play Store.
Click on the spam text to open the discussion thread it is associated with
Press the menu button placed in the upper right corner
Click on the information option
Then select the block and report as spam section
Make sure the Report spam box is checked
Press Ok
From now on, your smartphone will not emit any notification (vibration or ringtone) when it receives an SMS from this number. Likewise, future messages from this spammer will no longer appear in your email inbox. They will simply be blocked.
To find the blocked messages, all you have to do is click on the menu button on the main screen of Android Messages and then select the spam and blocked conversations section. If you have blocked a phone number by mistake, just select the thread and click on the button this is not spam.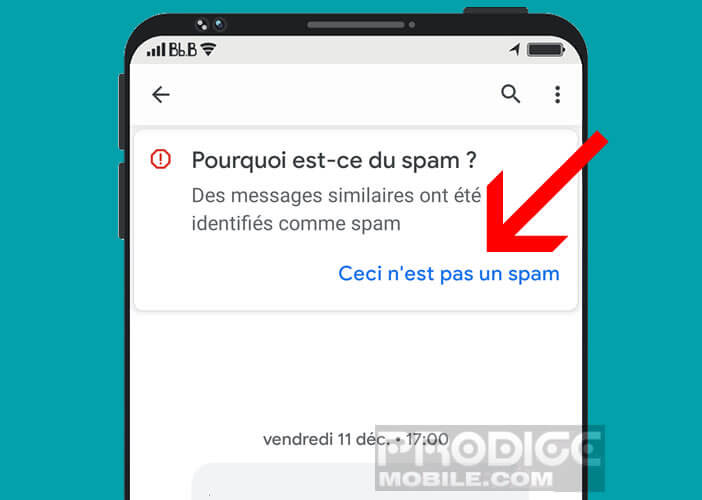 Now you know how the Android Messages anti-spam system works. Then it's up to you to create your list of banned contacts in order to block unsolicited SMS.