Most devices and equipment these days, set-top boxes, televisions, receivers, Blu-ray players, etc. have an IR Blaster module. This module allows them to be controlled with a remote control via infra-red and Bluetooth, and that we already know!
But if I tell you that even a few Android smartphones also have a built-in IR Blaster sensor, the first thing that comes to mind is how to use these as a remote control to control a TV or any other device.
It is therefore possible to use your smartphone if it supports the IR Blaster to control a television, especially in the event that you have lost its remote control, and this thanks to applications that exploit this functionality, that is to say – say IR Blaster applications.
There are obviously applications that use Wi-Fi to control devices connected to the same network without the need for infrared or Bluetooth such as the application. Apple Remote to control your Apple TV without the need for a remote, or as the two alternative applications to your Freebox Revolution remote control. But today in this article, we are going to introduce you to some Android apps that only use the IR Blaster to control a TV.
Best IR Blaster (Remote Control) Apps for Android in 2020
First of all and before moving on to IR Blaster applications, I will give you a few Android smartphones that support IR Blaster: we find the Huawei P30 Pro, the Poco F2 Pro, the Xiaomi Mi 9, Huawei Mate 20 Pro, the Redmi Note 8 Pro, the Xiaomi Mi A3, Redmi Note 9 and finally the Xiaomi Mi Note.
So check your smartphone's technology support before installing these applications.
Universal TV Remote app
This Android application and as its name suggests, turns your smartphone into a real universal remote control for your TV. It supports most of the popular manufacturers including Samsung, Sanyo, Toshiba, Panasonic and LG.
Among its features, voice search, TV power control (Turn TV On / Off), volume control and other commands found in a remote control. And for multimedia content, it lets you start playback, stop playback, and fast forward or rewind in a video.
To download and install it, go to this page: Universal TV Remote.
Mi Remote Controller app
Mi Remote Controller can control not only televisions, but also set-top boxes, air conditioners, Android boxes, projectors from several brands and manufacturers like Samsung, LG, Sony, Panasonic, Sharp, Haier, etc.
And for smartphones supported by the app: Samsung S4 / S5 / S6 / S6 Edge / Note 3 / Note 4, HTC One Series, Mi 4 / Mi 4c / Mi 5 / Mi 5S Plus / Mi 5C / Mi 5X / Mi 6, Redmi 4 / Redmi 4A / Redmi 4X, Redmi Note 2 / Redmi Note 3 / Redmi Note4 / Redmi Note4X / Redmi Note5A, Huawei Honor 3/6/6 plus.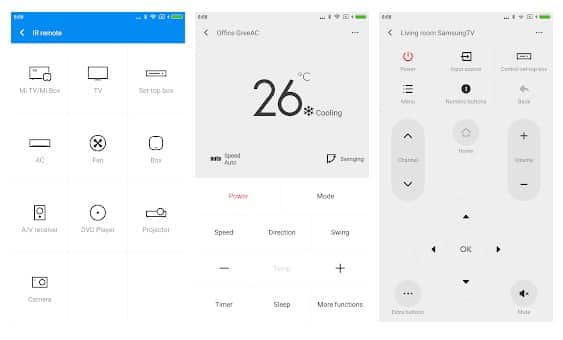 To download and install it, go to this page: Mi Remote Controller
AnyMote Universal Remote app
This application works perfectly to control devices manufactured by Samsung, Sharp, Panasonic, Xfinity such as smart TVs, air conditioners, Android boxes, DVD and Blu-Ray players, VCR, amplifier.
The app controls more than 900,000 devices and it is available in two versions, free and paid.
To download and install it, go to this page: AnyMote Universal Remote
Castreal Remote Control app
Castreal IR Remote or simply Universal IR Remote Control turns your smartphone into a real universal but virtual remote control to control different types of devices using your Android phone with IR Blaster.
And like the other applications mentioned above, Castreal IR Remote is capable of controlling the television, multimedia player, air conditioner, video projector, audio amplifier, etc.
If you have lost your old remote, try this app available for free on the Google Play store.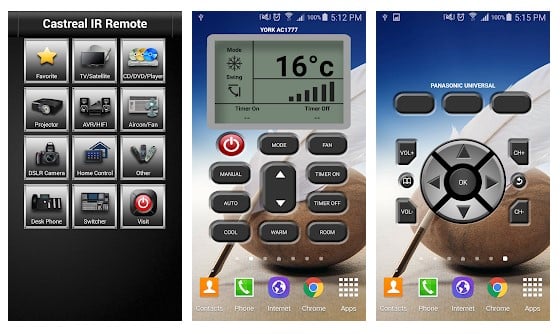 To download and install it, go to this page: Castreal Remote Control
The SURE Universal app
This is one of the best apps you can find on the Google Play Store and works with the IR Blaster on smartphones with this technology.
And in addition to controlling multiple devices like a real remote control, the application also allows you to cast (stream or broadcast) multimedia content (Photos, Videos and Audios) from your phone to a Smart TV using Wi-Fi and DLNA.
To download and install it, go to this page: SURE Universal