This is a very easy way to backup and even restore the drivers and drivers for all devices on your motherboard in Windows 10 and using the command prompt only.
Very useful when you are about to install or reinstall your Windows 10 operating system and without worrying about the drivers or how to find which ones are compatible with the components of your computer after your installation is complete.
Even if it's not like before and it does not pose any more problems like in the days of Windows XP or Windows 7 because Windows 10 automatically detects most of the drivers of your computer but it is always advisable to take a look at the website of the manufacturer of your computer if it is a brand or the manufacturer of the components of your computer if it is an assembly or a configuration in order to download the latest drivers and compatible drivers.
However, it is always possible that the manufacturer of your hardware will stop supporting its components and therefore will no longer offer drivers or software. updates, and in this case, even Windows 10 will no longer detect these drivers, hence the need to perform a backup anyway.
There is software to perform driver and driver backup in Windows 10, but we and in this article we are going to use the DISM (Deployment Image Servicing and Management) tool and using the Windows command prompt 10 only.
Back up the drivers for all devices using the command prompt
To back up all drivers and drivers with the DISM command, follow these steps:
Step 1. Open File Explorer on Windows 10.
2nd step. Create a new folder DriverBackup to create the backup in it with all the drivers (Ctrl + Shift + N).
Step 3. Open Windows command prompt in administrator mode (Right click on Start then select Command Prompt (Admin)) or (Windows key + Q, type CMD and validate with shift + Ctrl + ENTER, or the Windows key + "X" and click on "command prompt (admin)).
Step 4. In your command prompt, type the following command and press Enter:
1


DISM /online /export-driver /destination:C:DriverBackup




NB: Do not forget to change in this order C: DriverBackup by the path to the folder you created in step 2.
After step 4, the DISM command will search for all drivers installed on the system and make a copy of the whole folder C: Windows System32 DriverStore (The DriverStore folder contains the Windows driver database) in your destination folder created in step 2.
It is important to point out that this method will only back up drivers with the .inf extension, other drivers installed using an .msi package where .exe will not be backed up.
You now have a backup folder DriverBackup which contains all the drivers, to restore them to a new installation of Windows 10, just use this command:
1


DISM /online /Add-Driver /Driver:D:DriverBackup /Recurse




If you encounter errors like: error: 50 "This command can only be used with an Offline image", Try to restore the drivers manually with the Windows Device Manager :
+ In the search box on the taskbar, enter device manager and then select Device Manager.
+ Select a category to view device names, then right click (or long press) on the one you want to update or restore.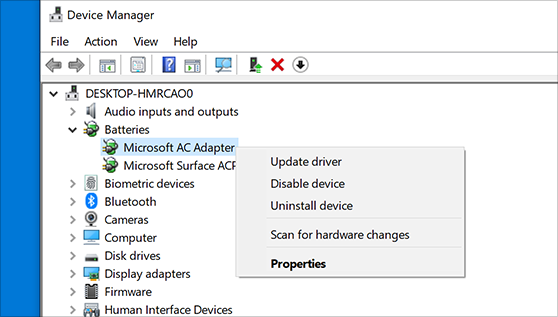 + Then manually search for the driver on your computer, by selecting "Find a driver on my computer"
+ Click on Browse then navigate to the folder that contains our driver backup and select it then click on next and let Windows 10 search in this folder …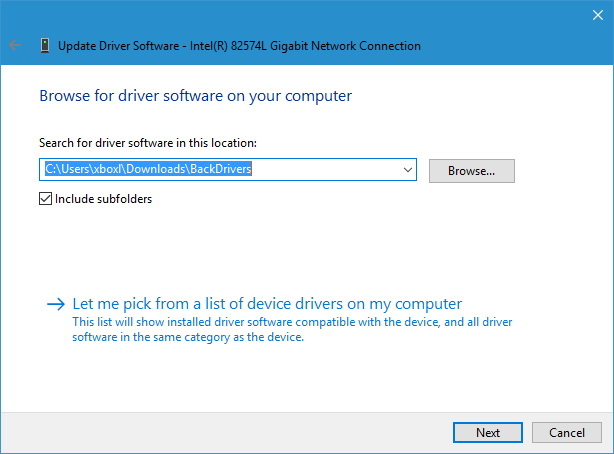 + Finally click on Update driver.
If Windows can't find a new driver, search for one on your computer manufacturer's website and follow the instructions.