Are you the type of person who likes to laugh at yourself? So keep reading this article!
There are many free silly face apps for android and iOS that can cordially change your face in a humorous way. These apps allow you to deform your face as you want. inflate it, stretch it and do any other warping your soul desires. Some of these apps even work with videos and can make your voice funny too.
If you need face shape apps, check out this article: Top 7 face swap apps to make your photos look hilarious
Here is the list of the 9 best apps in this category that are worth your time. Looked!
1- Face Warp – Funny Photo Editor
Let's start with an app called Face Warp. This is an app which allows you to create a lot of funny things with your selfies.
The main goal of this app is to show you how cool it is to make fun of yourself. That's why it allows you to do the craziest things with your photos. Frankly, the app only has one instrument – face distortion – but it can deal with anything you can imagine.
Here, there are several types of brushes you can use to distort your appearance: the distortion brush itself, then the brush, brush, and pixel. These brushes can rotate some parts of your face, make others smaller or larger, distort something, etc.
Additionally, you can adjust the size of each brush and see what the photo looked like before using it. You can also use an automatic mode which distorts your photo randomly. And you can enlarge the image for detailed distortion. Besides, there is no facial recognition technology in this app, so you can not only use it with selfies.
Download for Android – Download for iOS
2- Banuba – Live Face Filters & Funny Video Effects
Banuba is an app which has a huge compilation of various live masks for you to try.
The app covers multiple masks of every theme you can imagine. There are face masks, celebrities, animals, etc. Plus, there are dozens of masks that make your face look incredibly funny. The amount of mask is constantly renewed so that you never run out of material.
Besides that, you can not only take photos with silly faces, but you can also record short videos. There are also plenty of masks out there that randomly warp your face making you look absolutely hilarious. Along with this, some of the masks come with voice changing options and can make you feel like a kid or a cartoon character.
Additionally, some masks have a few options and you will need to tap the screen to see them all. All masks are nicely made and they look great on faces – no smudges and scary looking. You can also save the masks you like to your favorites to quickly reach them next time.
Download for Android – Download for iOS
3- Facelab – Face and beauty editor
Facelab is an app that can deal with all types of selfie modifications you can imagine.
This app is not entirely dedicated to joke effects and other things, so there are also some tools that can make your photos look exceptional. These instruments can reshape and resize your nose, eyes, lips, and your entire face in general. Plus there are basic tools for brightness correction and all that.
The rick here is – you can use all of the same reshaping tools to make yourself look absolutely hilarious. Once you've dealt with that, you can add some spice to your photos. In fact, you can use various stickers as accents and even try the 3D selection filter. The app is free and no instrument requires cash payment.
Attached the app also offers a compilation of face masks that you can try out. For example, there is a mask that will show you what you will look like in old age. And there is another mask that turns you into a baby. All the masks are quite beautiful and do not reduce the quality of the application.
Download for Android – Download for iOS
4- Funny face effects
As the name suggests, Funny Face Effects is an app that will make you look silly on selfies.
This app is completely dedicated to funny face modifications and it's one of the best of its kind (no surprise, it has over 10 million downloads). The app covers various fun effects like facial deformities, arm stretching, and a lot of other hilarious deformities.
Plus per token, the app can not only work with photos – it can actually turn your photos into gifs. Here's how it works: you create deformations on any part of your body you want and the app animates those parts. It looks very funny and you can post it directly to your insta if you want.
Hereby, the app allows you to distort your photos from your camera roll or take new ones with its own built-in camera. There are also brands that make you look fat or make your eyes look extremely large. If you want to adjust any of the instruments you used, you can use the eraser brush for that.
5- Crazy Helium Funny Face Editor
Crazy Helium is an app that covers tons of instruments that can warp your face in a fun way.
The coolest thing about this app is that you can not only take photos with it – you can save the funniest short videos ever. There are several masks that will heal your face or make you look like a movie character. Of course, there are also some cute masks, but we're not here for that, right?
Some masks can even make you look like a completely different person. As the name suggests, many masks make you feel like you've inhaled helium. Additionally, there are masks that mimic the voice of Pennywise and other famous characters. Here some masks can work on or multiple faces so that you can have fun with your friends.
Also, you can choose any song from the app compilation and lip sync with it on a video. After the video is recorded, you can speed up or slow down your voice. You can even mix the layer masks on top of each other to achieve exceptional effects.
6- Face changer
Face Changer is an app whose main goal is to make you laugh at yourself. The app has a huge compilation of cool masks and stickers for you to try out. The first fun tool that has gone viral these days is face swapping. It allows you to practically change faces with your friend or any other person you want.
Frankly, you can't just swap faces with people – they can be animals, animated heroes, and whatever else your heart desires. Then there is a face morph instrument which allows you to reshape your face. This tool actually gives you absolute freedom of action. So you can make your face lean, fat, make your eyes or nose gigantic, or make yourself look like a monster.
On top of that, the app has tons of individual face parts that you can put on your face. It might sound scary, but they're actually just stickers – and there are over 600 of them. These parts can be werewolf eyes, pixie ears, scars, etc. There are also dozens of accessories such as glasses, beards, etc.
7- YouCam Fun – Live Selfie Filters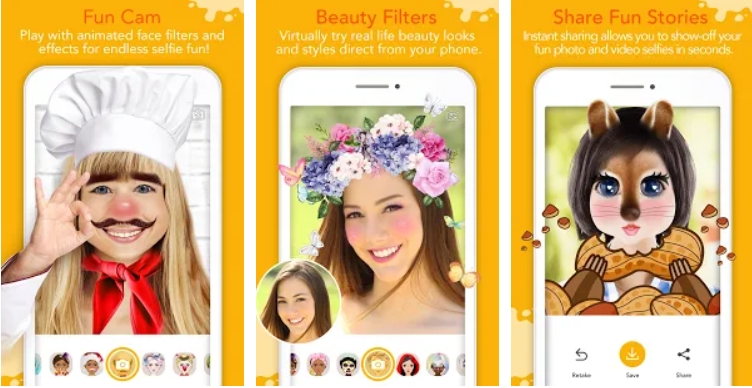 YouCam Fun is an app which can make you hilarious in photos.
This app has a huge collection of masks and stickers that you can put on your photos to make them fun. Let's start with the masks, okay? So there are tons of masks you can try on your face in live mode. With it, you can not only take photos, but also record short videos with the masks.
All masks come in themed sets – those with animal faces, funniest, beautiful, horror, and more. There are also masks that can work on more than two faces so you can try them out with your friends. Additionally, some masks come with sound effects that make you sound unusual (in most cases you will feel like you've inhaled helium).
As for the stickers, there are hundreds of them and some are even animated. The stickers can be parts of the face of some magical creatures, accessories, quotes, drawings and much more. In addition, new themes are added every public holiday.
Download for Android – Download for iOS
8- Photo channel
As you can guess from the title, Photo Warp is an app that makes funny deformations with your face in photos. While the app can make you laugh so hard, it doesn't have a lot of instruments. All you can do here is tap your photo and then swipe your finger however you like. With this, you can stretch certain parts of your face, rotate them, swell them or reduce them.
You can also enlarge your photo for more detailed distortions. So you can easily undo all the distortions you have made and even erase parts of it. Besides, the app also has basic correction instruments which can make your photo brighter. The app does not have a facial recognition tool, so you can not only use it with selfies.
What's more, the app can even create gifs from your photos. Here's how it works – you make any string you want with your face. Then the app animates that part, and boom – you've got your gif. You can also publish indirectly on your insta if you wish.
9- Funny Video Maker – JokeFaces
And finally, JokeFaces is a fun app that lets you create hilarious videos.
So the effect that the app gives you recently is a must to try. What this app does is swap any face in the video with your face. It looks amazingly funny with all kinds of music videos and movie scenes because the sound stays the same.
It must be said that there is no restriction on putting your face on the videos – it can be anyone, even your cat. The app has a compilation of thematic visions that you can elevate as a basis for these. These videos can be birthday and wedding cards, or even a declaration of love. However, there are plenty of other videos that will make you laugh so hard.
You can also save the snapshots of the videos if you want. If you don't really need the sound of the video, you can save it as a gif. Plus, all the results are of high quality, so don't worry about it. You can also share the videos anywhere directly from the app.
Download for Android – Download for iOS
If you liked this article you will also be interested in: How to transform and create face mergers online