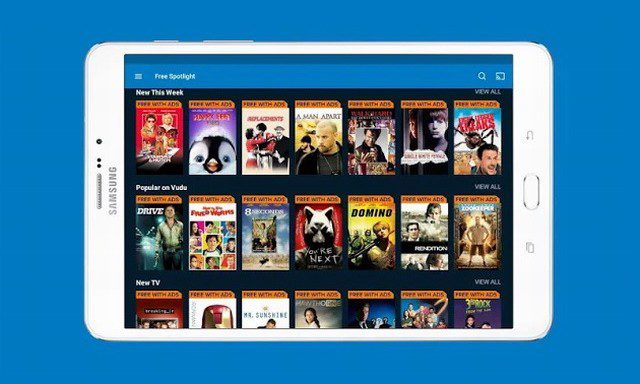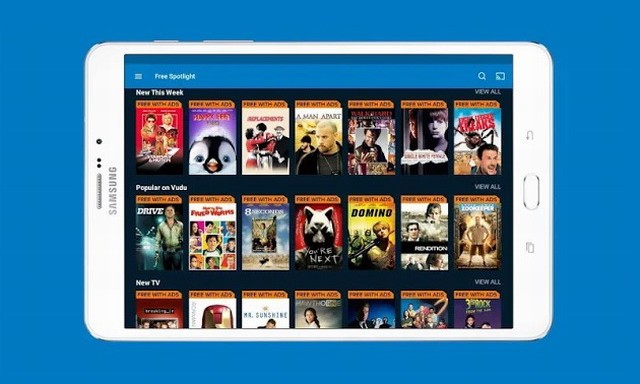 Smartphones have evolved over the years and now, instead of functioning simply as a communication device, they have become a source of entertainment. We can watch movies and videos on the big screens of our smartphones and have fun. There are tons of movie theater apps out there, but very few deliver what they promise. We have selected the best apps for streaming movies.
1. Crackle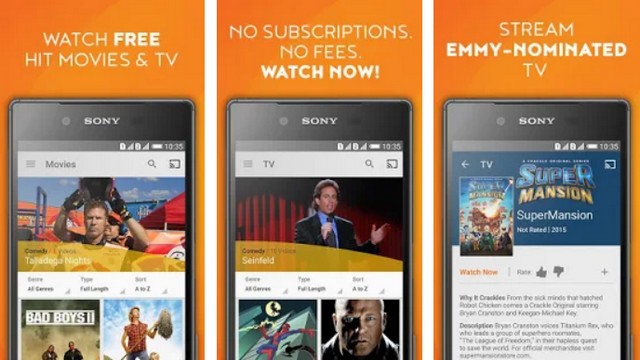 Sony Crackle supports just about every device imaginable, including all popular mobile devices, most smart TVs, streaming players, and game consoles, in addition to a regular web browser.
The interface is easy to use and the videos stream smoothly. You don't need to log in to watch movies and TV shows, but the option is available if you need it.
---
2. CineTrak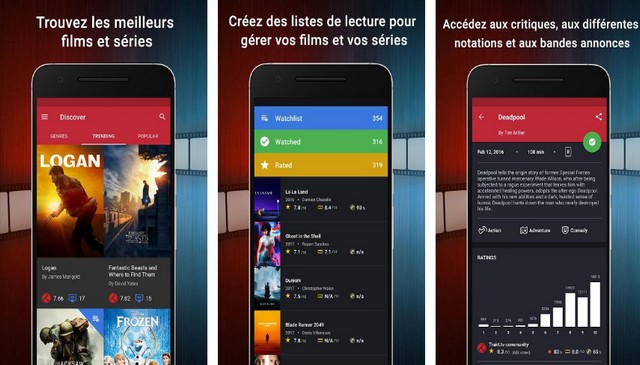 CineTrak is a solid movie and TV show tracker app where you can track your times and shows you've watched. The app also has the Discovery Platform where you can discover new movies and shows. You can also read reviews of IMDb, Trakt, Metacritic, and Rotten Tomatoes on the app. The basic version of the app is free but comes with some restrictions. The basic version of the app is available for $ 3.99.
---
3. Yidio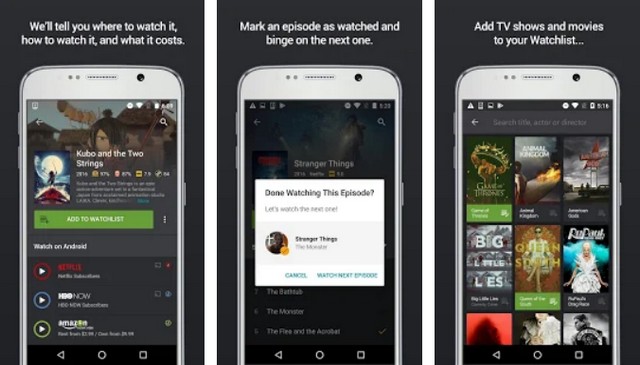 Yidio's free video app only works on a few devices, but it's actually a very handy app that shows you exactly where you need to go to find free movies. You can filter movies in different ways, like premiere date, MPAA rating, and genre, and even hide the ones you've seen before. Another option is to filter movies by app so that you can find free movies or those available in an app you already have on your device. Yidio is one of the best apps to watch streaming movies.
---
4. SnagFilms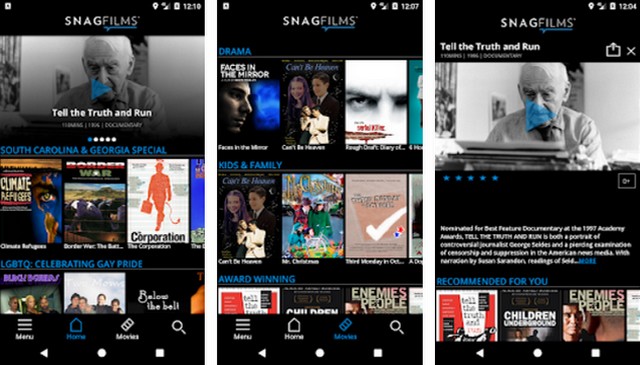 The free movie app for SnagFilms is available on most major devices, is simple to use, and lets you share movies on social media. You can scroll through the genres in the Movies section and view other movie sections on the main page.
---
5. Popcornflix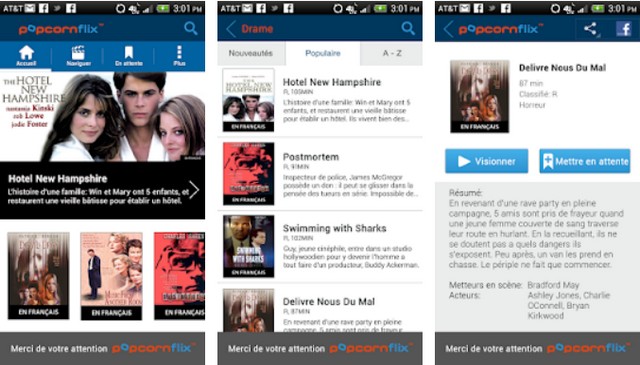 Popcornflix is ​​another free movie app that lets you watch free movies from your computer. There are a few featured movies scrolling down the main page and you can browse the movies by genre. There is also a portion of the app for newcomers, the most popular movies on Popcornflix, and Popcornflix originals.
You can also add movies to a queue to collect them in one place, even without signing into an account.
---
6. Pluto TV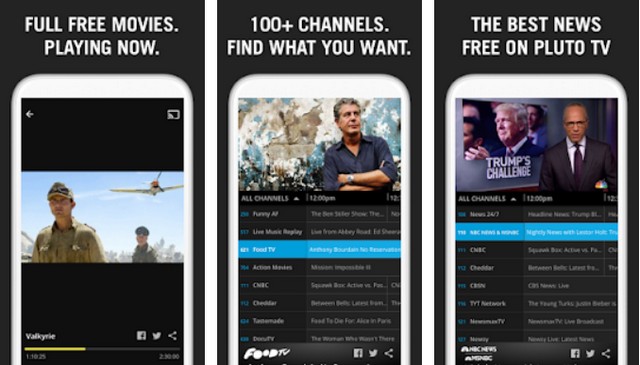 Pluto TV is a versatile service that offers applications on various smart TVs and smartphones. You can use it to watch live TV and movies for free as well as stream movies on demand. Pluto TV movies are available in a number of genres such as drama, action, and horror. You can also watch the most recently added popular movies and movies on Pluto TV. As Pluto TV also has live movies, you can start watching them on Channel 51, although the movies are also found in other channels.
The Pluto TV mobile app allows you to hide channels if you prefer not to watch movies from specific sources, and show the description of movies that are currently playing, but not broadcast live.
---
7. Tubi TV
The Tubi app looks almost identical to the desktop website, but it is so well optimized for mobile that it is extremely easy to use. The top of the app has the same featured movies scrolling across the top of the site, with all kinds of different genres mixed in. All of the same genres, and the search tool, are available through the Tubi app as they are on the site, and each movie cover is large enough to view without having to tap on them.
By choosing a movie, you go to its description page where you can find the release date, duration, rating and genre.
---
8. Vudu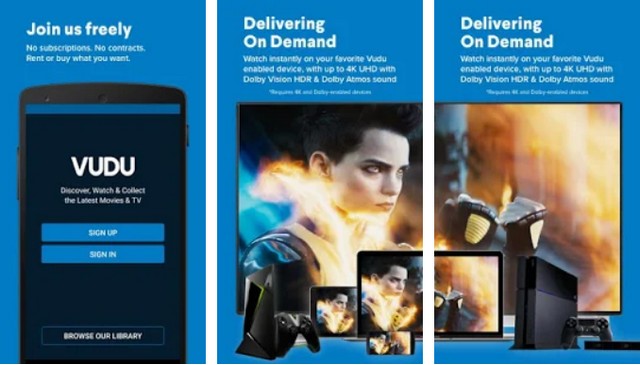 Vudu is well known for the movies you can buy, but if you're used to the occasional ad, you can watch thousands of movies for free as well. Watching only free movies at Vudu is easy; Just open the Free page in the menu or search for films bearing the FREE WITH ADS label. From here you can browse all the free Vudu movies from the ones that are new this week, are most popular, or are in specific genres.
Something else you can do is see all Vudu free movies on their website, then search for a specific movie on the app to watch it from your mobile device.
---
If we missed any of the best apps for streaming movies on Android, tell us about them in the comments. You can also consult the best apps to download movies on Android.