Can't wait to get into a snowball fight with your friends? Lucky for you, we know how to make it happen any season of the year!
There are many snowball fighting game apps for android and iOS that will help you dive into the exciting world of winter games. All of these games are different – from those that aim you to simply fight opponents, to those that protect the castle. There is even a retro game that will bring back sweet memories.
If you're interested in strategy games, be sure to check out this article: Top 15 best Android strategy games
Here is the list of the 6 best gaming apps in this category that you should try.
1- Free SnowJinks
Let's start with an app called SnowJinks. This is a snowball fighting game that will bring you to a virtual winter wonderland.
Depending on the plot of this game, you can join them as teenagers as they attempt to defend their region from the ice attack. So, your main goal here is to make as many snowballs as possible before you are called home.
Beyond that, you can maneuver between wintry lands surrounded by snowmen, playgrounds, and Christmas decorations. Some of these decorations can even play in your hands, protecting you from snowball attacks.
As you can already guess, you will also be attacked by local bullies, so you will have to avoid them. In addition, you can grab gifts that could help you during snowball fights.
These gifts can help you heal faster, turn your snowball into a fireball, or even cause coins to rain. Coins can be spent on various equipment, cute clothes, or to increase damage from your snowballs. The game starts with simple levels but it gets more and more complicated over time.
Download for Android – Download for iOS
2- Snowball.io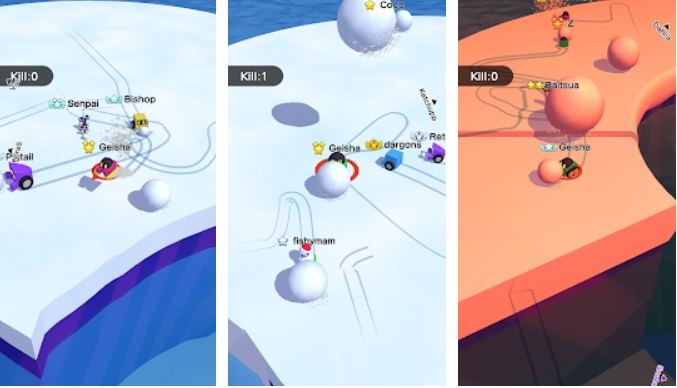 Snowball.io is a minimalist snowball game with simple control.
This game is one of a line of io games that are popular with gamers around the world. Be the concept of this game, you play for the car collecting a big snowball. What's the point you might ask? Well, to take out all the opponents from the competitive field and take the lead.
So your real goal here is to beat all the opponents. For this reason, you need to drive in the snow and collect as big a snowball as possible.
Then you have to throw this snowball at your opponents. If he's going to fly out of the competition area – great, go defeat another one, if not, you'll have to try again until your snowball is heavy enough to kick your opponent out.
As already mentioned, the game has a simple control system, so it will not be difficult to know how to play. Moreover, the game covers a huge compilation of cars that you can change. Of course, most of them can only be unlocked for in-game currency, but that's not a big deal. In addition to the colorful design, some cars run faster, which allows you to collect more snowballs.
Download for Android – Download for iOS
3- Snowball Fight – Free whack-a-mole game
As the name suggests, Snowball Fight is a winter game that will improve your holiday mood. This is a fun winter game that's all about the holidays. By the plot of this game, the Gophers challenge you to go and play a snowball fight with them. Your goal here is to bring back childhood memories and accept the challenge.
It must be said, the visual of the game is quite correct and the animation is beautiful and fluid. The game process itself looks like a good old-fashioned whack-a-mole type of game. So the heads of the waffles are popping out of their burrows and your need to slap them with a snowball. Sounds simple, doesn't it?
You start with easy levels but it gets more and more complicated. At first there are only a few burrows and the waffles come out slowly. Then the number of burrows will increase and the ground squirrels will speed up so you will have to be very careful to slap them.
It's not a multiplayer game so all you can do here is beat your own records which can be a lot of fun too. Besides, it is a great game to play with your family during the holiday season.
Download for Android – Download for iOS
4- SNOW WORLD: easy defense action
SNOW WORLD is a winter fighting game that will keep you entertained while on vacation.
According to the concept of this game, there are enemies who come to bring down your castle, so you have to go into a snowball fight against them. It might sound a bit harsh, but it's actually not that dark.
The enemies in this game are cute penguins and you play the role of a snowman standing on the ice wall and throwing snowballs at them. Along with this you also have your own army of penguins – the ones on your side are blue and the enemies are black. In addition, you can also add snowman warriors to your legion.
Aiming at the target is easy in this game – just tap the enemy and it's done. Your objective here is not to let opponents get too close to the walls, so make sure you aim well.
Each level that you complete brings you to the point that you can spend to upgrade your legions. You can also pump your penguins and raise the powers of snowballs. In addition, you can renovate the walls against the castle and make them more resistant to snowballs.
5- Snowball fight
SnowBallFight is a snowball fighting game that will give you great retro vibes.
Frankly, it only takes a glance at the visual of this game to dive into warming nostalgic feelings. This is because the game looks exactly like the ones we used to play on our push-button mobiles some time ago.
With that, this game might not be as entertaining and exciting as modern HQ graphics, but it is here to remind you of what mobile games were like back then. And if you are young enough and have never played these types of games, this one might not interest you.
According to the concept of this game, you have to throw balls at the characters that come towards you from the top of your screen. You, in turn, stand at the bottom of the screen and also have to dodge the snowballs that your enemies throw at you.
Also, you have to do your best not to let them get near you because you will lose lives because of it. Your opponents will move faster and faster during the levels, so it will be more difficult for you to win.
6- The snowball fight
And finally, The Snowball Fight is a game which allows you to fight against your opponents using snowballs.
The concept of this game is pretty basic for the genre – the snow fight takes place on the hill and your main objective is to defend it. With this, waves of snow chasers try to attack the hill. All enemies are winter related which corresponds to the atmosphere.
Beyond that, these enemies are also trying to attack you by throwing snowballs, so you have to do your best to dodge. As always, the enemies outnumber you and they don't try to attack you one by one.
However, you have a huge arsenal of snowballs by your side so you can crush them easily. Additionally, you can elevate your snowballs making them more deadly for your opponents. So the enemies will come and move quickly from level to level so that the game becomes more difficult.