Remembering what you consume online can be difficult. Use these modern and free highlighter apps to annotate text, videos, and podcasts.
Today, everyone's primary source of research is the Internet. It's time to ditch the old highlighter pen and use these free modern tools to annotate anything online.
Data comes in all shapes and forms these days. When doing research, you need to read articles online, buy physical books, watch internet videos, and even listen to podcasts. You need to highlight and annotate these different sources and remember why you added something to your favorites. This is where these free tools will come in handy.
SEE AS ​​WELL: Top alternatives to NotePad ++
1. LINER (Android, IOS, Web): The Easiest All Formats Highlighting And Annotation Tool
Liner has been around for a few years now and is among the best highlighting and annotation tools on the web. Recent updates have made it better than ever and incredibly easy to use on multiple devices to sync together.
Install the app on your phones and the extension on your browser, then sign in with the same account. On mobile devices, share any link to Liner to open it in the app. There, highlight all the pieces of text by long pressing (yellow and green colors available in the free version).
The highlights will appear in a list after exiting the annotation page. You can group multiple annotations or links into a single folder (the free version allows up to three folders). Searching in the Liner app gives you all of your highlights and link titles.
Download: Liner for Android | ios | Samsung Galaxy Store (free)
Note: Liner indicates that its app for Samsung phones, available on the Samsung Galaxy Store, is more up-to-date and considered the "official" app for Androids.
2. TLDRticle (Chrome): Save Highlights And Annotations In Google Docs
Evernote and Microsoft OneNote let you save highlights and annotations in their own apps. There is no similar system for recording highlights in Google Docs. Until now. TLDRticle is the easiest way to add search information to your own Google Docs file.
Highlight the text on any web page and click on it to see two options: TLDRticle it or How? 'Or' What . This copied text or comment will automatically be added to the default Google Doc file for your research tasks. You can create multiple Google Docs in the TLDRticle dashboard and choose the file to add it to.
To display the dashboard, tap the extension icon or the shortcut ( Ctrl + Alt + Z ). You can use this dashboard to search the current web page for multiple keywords or numbers, which will automatically be highlighted. So when you are browsing a long article, it is easier to find the content you want to paste into the Google document.
The extension also makes it easy to take screenshots of the current page and automatically add it to the document, and you can also highlight images in the same way. Of course, whatever page you use TLDRticle on is automatically added as a large header in the file.
Download: TLDRticle for Chromium (free)
3. TagX (Web): Highlight And Annotate Parts Of YouTube Or Other Videos
There is so much content online in videos that you also need a tool to highlight and annotate them. TagX works with YouTube, Vimeo, and other common video links so you can tag the interesting parts of any video.
The application annotates a video in two ways: Tags and tracks . Use tags to mark the start and end of any section, and why it's interesting. If you use the same tag in multiple sections, you will create a "track" for it. It's kind of like creating a mini playlist from a given video to highlight a certain topic in that clip.
Once the markup is complete, you can share the TagX URL with anyone. You can also customize the layout of the link's appearance for new viewers. You don't need to register to use TagX, but you will want to register to save your designs over time.
4. Notecast (Android, IOS): Put In Highlight The Last 30 Seconds Of Podcasts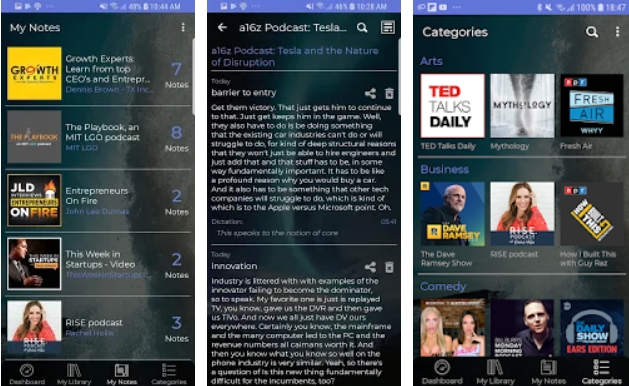 Some of the best minds in the world are having their best conversations on podcasts today. You cannot search without listening to a few episodes. Notecast wants to be the highlighting tool for podcasts in a smart and natural way.
Like one of the best podcast apps, add a series and start listening to an episode. Once you hear something you want to mark for later, press or long press the highlight button. One tap adds a small bookmark, while a long press allows you to add tags or notes at this point in the episode.
The climax will mark the last 30 seconds of the podcast, which is a smart feature as you don't have to turn back time. Moreover, Notecast will also automatically transcribe this part, giving you a text note along with the audio clip. It's fantastic, and hopefully will eventually become a standard feature in all podcast apps.
The free version of Notecast allows you to capture two notes per podcast and is supported by ads. The paid version has no limits on grades and also includes weekly summaries of all your grades.
Download: Notecast for Android | ios (free)
5. Readgraphy (Android, IOS, Web): Annotate Real Books On Your Phone
Sometimes you will have to rely on physical books for your research. In the modern world, you don't need highlighters or sticky notes for annotations. Take out your phone, take a picture and highlight it in Readgraphy.
The free mobile app makes it easy to add notes while you read a real book. You can take a photo immediately or add images from the gallery. Crop the page of the book, then use the different colors to highlight the lines. It's like you would in the real world, but now it's all on your phone.
It is recommended to add some notes and tags in each highlight. For example, the page number or the text of what you have highlighted. This allows Readgraphy to find it later or export it as notes. You can also view all of your notes in a web browser.
The app lets you search Google Books to add titles and then create notes in each title. The free version can convert images to text 30 times per month, allows up to 100 notes, and does not export to PDF. The paid version has no such limits.
Download: Readgraphy for Android | ios (free)
READ ALSO: Top 12 Best Voice to Text Apps for Android and iOS
Compile Everything In A Notepad
These various highlighter and annotation tools are not the end of your research tool set. These are tools for marking the data you need while you continue to find items. But it's just as crucial to review these highlights and compile them in a different research notebook or journal.
Again, you can try online tools for this. Evernote and Microsoft OneNote are both designed for such research, and there is also free alternative notepad apps that worth a visit. In these, you can form structured notes based on highlights from the past, rather than a hotchpot of random annotations.